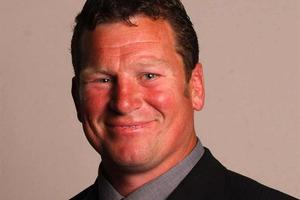 I don't think the All Black selectors need to strain themselves too hard in picking the team to play the Springboks in Hamilton on September 12.
Most of the attention is centering on the No 13 jersey after the injuries to Conrad Smith and Luke McAlister but I think McAlister's injury restores Ma'a Nonu to his rightful position anyway.
Nonu did nothing wrong even when he was supposedly out of form and he did a great deal right when he came on against the Wallabies last week.
McAlister, as I have said before, hadn't done enough to warrant selection anyway and he needs more provincial game time to work on his issues - like his tackling technique.
But if Nonu is going to play at second five-eighths, and there is no Smith and no Richard Kahui, there is a big gap at centre.
I'd play Isaia Toeava there. He's not the be-all and end-all but he'll be sound enough and he's got a bit of a kicking game if they need it outside Dan Carter.
There's no sense moving Mils Muliaina to centre and playing Cory Jane at fullback. Mils is playing well there and I seem to remember John Mitchell and Robbie Deans shifting Mils to centre and getting crucified for it.
There's a case for playing Carter and Stephen Donald together and Nonu at centre, but I don't think so.
Candidates like Anthony Tuitavake and Wellington's Robert Fruean don't look ready for it. Tuitavake has been playing mostly on the wing, and has a groin injury. While a lot of good things are being said about Fruean, he didn't make the Wellington starting team last night against Canterbury.
However, Jane could get a crack on the wing if the All Black selectors do the right thing and drop Joe Rokocoko. I think Rokocoko has seriously done enough to prove to the selectors that he shouldn't be there - or does the poor guy need to put in another ordinary display?
There's a body of thought that Rokocoko was bulked up too much in the interests of power and that it came at the cost of his speed. I am not sure about that but there is no doubt he used to be electric and elusive and now he labours a bit. Australia's Lote Tuqiri went the same way - he got too big and it cost him when it came to movement.
These selectors like wings who can field kicks and kick-return, as well as counter-attack, and Jane and North Harbour's Rudi Wulf fit the bill there.
Hosea Gear has got a show too but much will depend on what they thought of his showing last night. Whatever their choices, the selectors will not have to stray far from their squad, I'd suggest. As I have said, most people would agree they have the right personnel now Neemia Tialata has gone (and Rokocoko should follow).
How they go against the Boks will be another matter. The All Blacks did well in a tight test although there were plenty of mistakes, and they ground it out well, held their nerve and won.
It could have gone either way but winning it was important and this side will take confidence from it - but the Boks will be a much tougher proposition.