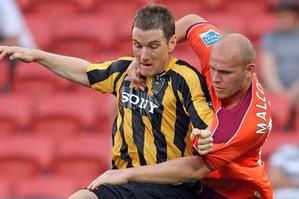 Wellington Phoenix marginally enhanced a poor away record in soccer's A-League by fighting hard for a 1-1 draw with Brisbane Roar yesterday.
An 85th-minute header by striker Chris Greenacre earned Wellington a share of the points in Brisbane after they had gone behind as early as the 10th minute.
It was a fully deserved goal for the visitors, who showed an attacking intent after halftime which had been sorely lacking before the break.
Phoenix coach Ricki Herbert said he was disappointed not to post what would have been the club's first victory over the Roar in seven attempts.
"To come to the Roar's home ground and dictate the play for long periods, I'm not sure many teams can do that," he said.
Wellington entered the game determined to improve a dismal record away from home since joining the league in 2007-08 which now reads 15 losses, three draws and just five wins.
A muted performance in front of goal in the first half in Brisbane against a side who had leaked six goals in their previous two matches did not help Wellington's cause.
By contrast, the Brisbane forward line was a constant threat, with their collection of imports continually stretching the Phoenix defenders.
Following a late 2-1 win over Perth in Wellington last Sunday, the Phoenix were hoping to take some momentum with them for the third round match in Queensland.
But they were very quiet throughout the first half despite having the better of the middle stages when they denied Brisbane possession.
Brisbane had the luxury of an early goal to Dutch striker Sergio van Dijk when he was left the simple chore to tap home from point blank range in the 10th minute.
He was the beneficiary of a neat through ball from imported Scottish midfielder Charlie Miller to Brazilian Henrique, who managed to get in behind Andrew Durante before delivering the ball on a plate to van Dijk.
Wellington coach Ricki Herbert tinkered with his playing formation at halftime to give Greenacre more support and they were certainly more creative in the second spell.
Fellow Englishman Paul Ifill wasted little time underlining their more attacking intent when he stepped his marker on the right in the 48th minute.
He laid on a good ball for Michael Ferrante, only for Ferrante to wildly thump the ball well over the crossbar from close range.
It was Wellington's one clear opportunity, which needed to be nailed, but Ifill was soon in the action again, this time producing a fine cross from the left which Greenacre headed just over the bar.
Wellington started pressing forward more regularly at this stage, and substitute Vince Lia came close to equalising in the 73rd minute when his crisply struck header from a Leo Bertos corner kick demanded a good save from Brisbane goalkeeper Liam Reddy.
Greenacre's equaliser came after more pressure, this time from substitute Daniel, who sent in a curling cross from the left flank which Greenacre directed past the clutches of Reddy.
Brisbane survived the closing minutes without Thomas Oar, who was sent from the field by referee Chris Beath after being issued with his second yellow card.
Roar coach Frank Farina did not attend the post-match press conference, leaving his assistant Rado Vidosic to face media questions about a physical clash featuring nine yellow cards, seven to the Roar.
It was not a happy day for Farina, who was banished from the bench and sent off for arguing with the fourth official late in a physical encounter.
Vidosic didn't hear what Farina said to the fourth official but he labelled the second yellow card for Oar as "soft".
"There was no malice in that tackle. He was a little bit late but you should not send him off for that," Vidosic said.
"There were some heavier tackles so I think it was a little bit harsh."
- NZPA