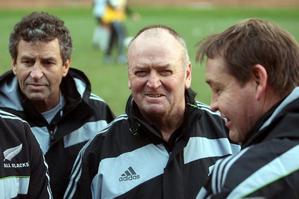 This Henry versus Deans battle is getting a bit one-sided. Maybe the All Blacks did, absolutely, get the right man back in 2007.
It's five-one to Henry and it feels a very long time since Australia beat the All Blacks.
The All Blacks will be in the Wallabies' heads. Henry could also be getting to Deans.
Every time the All Blacks need to lift their work, re-think how they go about their business, they do so. This coaching panel showed again they can think their way out of trouble.
Forget all the pre-match talk about the need for rugby to find new ways to entertain. Last night was never going to be the time for the All Blacks to worry if people got their money's worth.
They simply had to win.
Henry knew that better than anyone, which is why he paired Daniel Carter with Luke McAlister - to give the All Blacks dual kicking options.
It was more the Carter part of that equation that made all the difference. If in doubt, he hammered the ball long and won the force-back contest.
"He played well," was assistant coach Wayne Smith's understatement. "It was amazing for him to come back into a cauldron like that and play as well as he did."
The result wasn't the only turnaround needed. The All Blacks had to be smarter than they were in South Africa. They were.
The All Blacks also had to avoid worrying that the Wallabies might second-guess them.
The other key to the All Black performance was the set piece. No one was happy with the quality of work in South Africa. The lineout, a liability all season, had to be fixed.
While the performance was improved it was never quite as secure as the coaching team would have liked.
It was scrummaging where they really screwed the nut. Al Baxter was chased off and the Wallabies lost their confidence.
"What the forwards did tonight in the scrum and the lineout was critical to the outcome of the game," said Henry. "We had dominance in the scrum and at least parity in the lineout."
But ultimately, the difference was the mental strength. The All Blacks could have wilted when they were 15-6 down and the calls were going against them.
Then there was an abortive drop goal by Carter that had the look of a last chance. "I am hugely proud of the character the boys showed," said Henry. "They showed mental toughness. They could have dropped their heads because things were going against them."
Henry will release some of his squad to their provinces next week and he also broke his silence on the issue in Wellington with All Blacks not being selected.
He didn't think Jamie Joseph had made the right decision but thought things would be amicably resolved.