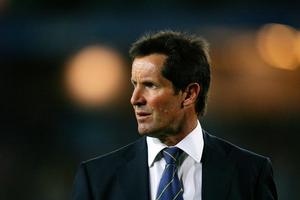 Robbie Deans has been blaming ingrained bad habits within the Wallaby psyche for robbing his side of victories.
He's probably right - the Wallabies, ever since they let England wriggle off the hook at the 2003 World Cup final, have seemingly forgotten how to win on the big occasion.
It's very un-Australian. It's very un-Wallaby and, whether Deans likes it or not, he's going to start facing a barrage of questions on what he's doing to instil good habits.
In his defence, there's plenty to do. It takes weeks to develop bad habits, years to build good ones. But how patient are the Australians prepared to be?
This is a nation whose sporting intelligence is second to none. The Australian rugby fraternity has been the smartest on the planet for many years - taking a side without a tight five to successive World Cup finals.
No one believed Deans held a magic wand; that he would pick a side up that was on the seat of its pants and turn them into world beaters simply by being on board.
There was an understanding of where the Wallabies really stood; how deep their problems really were and how much work lay ahead of Deans.
But it's apparent, 20 months after his appointment, that Deans has not advanced the Wallabies particularly far.
There have been sporadic bursts where they have looked deadly. For a whole half in Hong Kong last year, they held together and had the All Blacks scrambling.
But Deans was hired to produce more than sporadic bursts. There has to be more evidence of the players buying in; of them executing as per the script.
Above all else, there have to be more victories. For all the understanding and realism that exists, Australia is ultimately a country that loves a winner.
There is only so long the public - and that includes the most ardent Deans fans - will tolerate hearing about progress being made on nights when the scoreboard says it's not.
In 21 tests under Deans, Australia have lost eight. They took an absolute hammering last year in South Africa - 53-0 - and lost to Wales in Cardiff. The much-hyped battle with Graham Henry is now horribly one-sided: five to the old master and just one for Deans.
ARU chief executive John O'Neill wanted Deans to push the Wallabies up to 75 per cent. He's managed about 63 per cent, down on the 70 per cent achieved by his predecessor John Connolly.
The Wallabies have been close to winning more tests under Deans but close doesn't cut it after a while. Honeymoon is over, Robbie, it's time for this marriage to work.