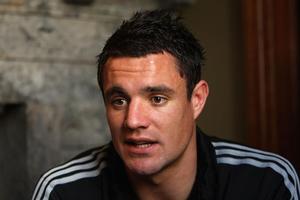 There's been little in the way of evolution about Daniel Carter. He won his 60th test cap last night but no one could look back to his debut, mark it with an X and see an obvious steep rise along the axis up to the present.
The thing about Carter is that he looked the real deal on his debut. On a freezing night in June, 2003 at Waikato Stadium, a cherub-faced 21-year-old ran the show from the All Black No 12 jersey.
Such was his composure and obvious ease with international rugby, the referee had to tell him to hurry it up when he made his first kick at goal. Carter had just about nodded off, such was his relaxed mental state and that has been his way ever since.
This is a player who in 60 tests has only once - in the World Cup quarter-final in 2007 - shown any hint of panic. He kicked across his own 22 that night, leading to hearts jumping into mouths.
One iffy moment in more than 100 hours of test rugby; and that in the most cerebrally challenging position on the field. No wonder he's been rushed back into action. It was idiotic of All Black assistant coach Steve Hansen to say it would be a "panic" move to bring Carter into the side for the Sydney clash.
Idiotic because it suggested he didn't know Carter's pedigree. It should have been obvious that Carter would slot back into the Canterbury side and look ready for higher honours. Obvious, too, that it would take him barely five minutes to find his feet.
Obvious because there was ample evidence. He was class on debut for the Crusaders; class on debut for the All Blacks; and class every other time he has returned from injury, serious or minor.
This is a player who doesn't need to graft and grind to find his form. Everything comes easy on the field - thanks to his natural gifts and brutal training off it.
There will always be those who harbour a soft spot for Andrew Mehrtens. Carlos Spencer has his admirers and rightly so, while Grant Fox knew how to run a game. Three great first fives, no question, but all would freely admit they can't match Carter.
No one's talents have stretched as far as his and quite how influential Carter is will become apparent in the last two Tri Nations games.
Take the Boks out of South Africa and they shrink an inch and suddenly look less formidable. They might well take a big punch from the All Blacks in Hamilton next month and the conclusion reached that home advantage was the catalyst for a much improved All Black result.
That's too simplistic, though, and should the All Blacks defeat the Springboks on September 12, it won't just be down to the venue.
Carter makes a big difference to this All Black team. Partly it's about who he is and what he brings. There's the control. The ferocious left boot. There's that languid passing motion that says he can't be hurried off his game. He'll find his runner, pick his option and to hell with the defensive rush.
There's also his running game, which he restored to full health last year. He says his calf muscle is lacking some elasticity and explosive power - yet that won't stop him coasting through holes and getting behind defences.
The other part of his contribution is about who he isn't and what he doesn't bring. Stephen Donald gave all he had for the cause but his game is untamed. It is not the cultured bag that Carter brings. Some of the basics go awry on Donald's watch and no one can ditch the sense of unease that comes with the Chiefs first five.
Carter may not have seen much in the way of evolution during his 60 tests but his return to the All Blacks should herald a revolution.