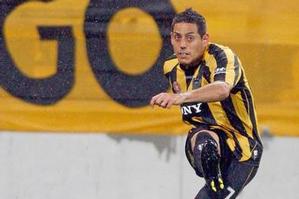 A 40m screamer from Leo Bertos helped the Wellington Phoenix snatch a 2-1 win over the unlucky Perth Glory in an entertaining A-League soccer match tonight.
Attacking midfielder Bertos struck against the run of play with a sensational free kick five minutes from time to hand the Phoenix their first win of the season.
They had been outplayed for much of the second half at a wet, freezing Westpac Stadium but Bertos sent warmth through the hearts of 10,000 supporters with his memorable winner.
Despite the conditions, it was an end-to-end affair, particularly in the second half as both sides constantly threatened to break the 1-1 deadlock.
Glory came closest several times, twice finding the crossbar, while the Phoenix also looked fluent going forward.
Bertos said it was team character and a desire to turn around last week's opening 3-2 loss to Newcastle that drove the Phoenix on.
His decisive goal, which took a subtle to deflection to help defeat goalkeeper Tando Velaphi, was never something he had great faith in.
"I put the ball down and it was sort of central but it was a bit far out to have a shot, particularly with the way I've been shooting in the last few years," Bertos told NewstalkZB.
"I thought, 'what the hell, I'll give it a hit'. I think it took a slight deflection but as long as we scored and won the game, it didn't matter."
Bertos said the skidding nature of the conditions made it difficult to launch orthodox attacks as the match wore on.
"The conditions were hard for both teams ... but we had to win, no matter how it happened, and to get our season under way," he said.
"The main thing we've got this year is character. We're all good friends and that's what took us through to get the win today.
"Hopefully we can kick on from here."
The Phoenix, who are away to the classy Brisbane Roar next weekend, made a dreadful start when conceding a fourth-minute goal to Victor Sikora.
Wellington midfielder Michael Ferrante, who was yellow-carded for a clumsy challenge moments earlier, was robbed by Sikora and failed to close him down as he dribbled into the box and drove a left-footer past Mark Paston.
The response came in the 24th minute after the Phoenix enjoyed their best period of play, with new striker Paul Ifill netting his first Phoenix goal. His header came from a sweet Bertos cross which found the Englishman unmarked 5m out.
Glory, who lost 1-0 to Adelaide last week, were rocked when key figures Sikora and Chris Coyne left the game with injuries midway through the first half.
However, Sikora's replacement Todd Howarth created all sorts of problems for the Phoenix right-side defence as he delivered a host of probing crosses.
Phoenix coach Ricki Herbert, who had his coaching contract extended by one year today according to unsubstantiated reports, would have been pleased with his team's attacking endeavour.
Ifill and fellow-striker Chris Greenacre both had good moments while midfielders Bertos and Diego created problems.
- NZPA