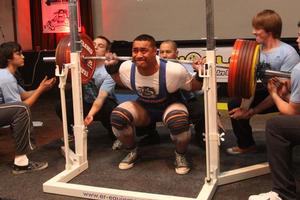 He's that big winger who played for the Warriors for a couple of years and then disappeared. That's the answer to the pub trivia question: Who was Odell Manuel?
At least, it was the old answer. The new answer is: He's the Australian national powerlifting champion. Some think he will be a world champion. And he used to play a bit of league.
Now 31, Manuel has been busy writing a new chapter in what had been an unremarkable story.
A competitive power lifter for just over a year, he has smashed records the same way he used to go through defenders at Mt Smart Stadium.
Powerlifting Australia's information officer Tim Germanichis described Manuel's rise through the ranks as nothing short of "amazing".
"His initial feats are unheard of in powerlifting circles," Germanichis said.
Distinct from weightlifting, powerlifting styles itself as true test of strength.
It comprises three events - the squat, bench press and deadlift - routinely performed as part of training routines in gyms around the world.
While not an Olympic sport, it is growing in global popularity. Last month's Australian Championships attracted over 1000 lifters across all classes. Manuel, who entered his first event as a novice in January, outlifted all-comers, hoisting a combined weight of 914kg to smash the Australian record by 20kg and claim the overall title.
For Manuel, the one-time league washout, the trophy came with a fair slice of redemption.
Until recently, there had been little remarkable about the former Otahuhu junior's sporting career.
For every old soldier like Ruben Wiki and Steve Price there are hundreds of Odell Manuels, players whose star burns brightly for a time then flames out early.
In Manuel's case, two years at the Warriors were followed by two broken seasons at the Raiders - 59 first grade games all-up, 19 tries. There was also a couple of seasons in the Bartercard Cup and an aborted comeback in Australia. All-up, a career worthy of a footnote in an almanac.
Off the field, his life mirrored his career.
"I hit rock bottom," he said. "It got that bad I was actually on the dole. I spent all my money and went on the dole. That was really degrading."
Considering his early promise, the speed of his tumble was startling. In 1999 he was named the Warriors' rookie of the year, and a year later he was playing for NZ Maori in the World Cup. But the success went to his head.
He had always dreamed of playing for the Warriors, but he walked out to join the Raiders after just two seasons.
"That was probably the beginning of the end for me," he now realises.
The switch started well enough but a compound fracture to a finger contesting a high ball with Lesley Vainikolo in training mid-way through his first season marked the start of a downward spiral. When he found himself languishing in reserve grade the following season, he demanded a release.
"I won't lie, I had a bit of an attitude problem. The next thing I know I was giving the game up. It was the most stupid thing I ever did. I thought I'd just throw it in for a little while but I didn't make it back."
After an unfulfilling spell in the Bartercard Cup, Manuel decided to have one last crack at a return to the big time. In early 2006 he travelled to Rockhampton to join the Central Comets, a feeder club to the North Queensland Cowboys. But after just six games he felt pins and needles in his knee. The diagnosis was arthritis. The only option - retirement, at 27.
"It was really hard. I cried. It was the end. I couldn't play league no more. I started playing when I was five or six."
But the training bug never left him. And, after his father introduced him to weight training at 10, he had always been strong.
A gym buddy in Rockhampton, where he had decided to settle with wife Sharon and daughter Paris, introduced him to powerlifting. Although he could bench press "only" 150kg as a player, he quickly found he had an aptitude for heavy lifting.
In January, he entered his first event as a novice, lifting 855kg. It was the biggest debut total in Australian history. Two months later he entered the Queensland champs, lifting 892.5kg to win both his class and the overall title.
"I thought, gee, I might go all right at this."
The question now is how far he can go in his new sport. He will represent Australia at the next world championships in India in November but, with the big boys from America and Ukraine lifting around 1050kg, isn't expecting to mount a serious title challenge for at least another couple of years.
Some, like Germanichis, believe he could do just that.
"Odell will figure as one of the world's best powerlifters in years to come," he said.
As for Manuel, he's just happy to rewrite a bit of history.
"I'm just trying to finish off the chapter. That's the goal for me, to write a happy ending."