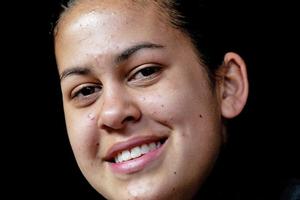 New Zealand under-21 netball captain Paula Griffin joins some distinguished company going into next week's world youth netball championships in the Cook Islands.
A list of past captains reads like something of a who's who in New Zealand netball - since 1988, each under-21 captain barring one has gone on to captain the Silver Ferns. Ana Noovao, Julie Seymour, Bernice Mene, Adine Wilson - all have delivered on youthful promise and developed into outstanding netballers and leaders.
Laura Langman, who captained the under-21s to victory at the 2005 world youth championships, has racked up 41 caps for New Zealand since making her debut four years ago.
Still only 23, she plays an important leadership role in the Silver Ferns, and is earmarked as a player capable of taking on the captain's role in the future.
Griffin, who turned 21 last month, has been in the Silver Ferns for the past two years.
Although she has received limited court time while coach Ruth Aitken has carefully managed her development, Griffin's game at goal shoot and goal attack has matured and in this year's transtasman league she showed impressive coolness and tactical nous at the Central Pulse.
The importance of her season with the Pulse, who recorded their first win in two seasons of the league, is obvious.
After making the move south from the Northern Mystics, Griffin said she improved and learned with every game - even if some lessons were on the wrong end of painfully big losses.
"It's just amazing how much court time can do," said Griffin ahead of the team's departure for Rarotonga tomorrow. "Situations develop out on court, and you can't learn from them if you're on the bench.
"Being out on court with the Pulse this year has helped me to get my mouth moving. When things are difficult, people need to talk, and coming from the Pulse, it's been good to step into that and have a bit of a leadership role," Griffin said.
Griffin said she has spent some time watching other captains. Among her influences, she mentions former Silver Ferns Jenny-May Coffin and Adine Wilson, and the Pulse's captain Cushla Lichtwark.
Although Griffin mentions the dangers posed by England and Jamaica as New Zealand begin the defence of their title next week with a match against minnows Barbados on August 11, it's obvious that the old enemy, Australia, will be the ones to beat.
- NZPA