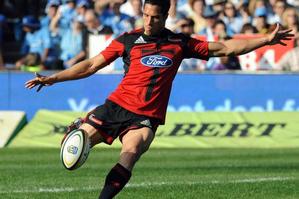 These days, we are forever hearing about players with character.
Coaches love all that - they are desperate to believe that the young men they put into battle are not only physically primed but in possession of a depth of emotional strength and courage us mere mortals could never match.
Having character implies players will be self-reliant, good decision-makers and able to work things out for themselves.
We'll find out a fair bit about the character of Stephen Brett and Colin Slade over the next few months. Will one or both have the strength of personality and certainty of mind to volunteer for a stint away from the Crusaders?
It's a touchy subject in Christchurch. The Cantabs, understandably, are protective of Brett and Slade. They have nurtured these two young men, ploughed some cash into their development and are not supportive of one or both giving themselves up to the Super 14 draft.
That's understandable - up to a point. Canterbury coach Rob Penney has pointed out that both Brett and Slade made the Junior All Blacks this year from the Crusaders and that the former was even called into the national squad to cover for injuries.
Having a log-jam of first-fives, then, is no impediment to progressing up the national ranks. That was this year, though, and things will be very different in 2010.
Dan Carter will be back in the No 10 shirt, leaving Brett and Slade scant opportunity in their preferred berth. Brett could revert to fullback - he's too defensively fragile and Ryan Crotty too good to be used at second-five - and Slade could play, as he did for much of this year, on the wing.
That, according to Penney, will be invaluable experience and continue to push both men in the direction of higher honours.
Not if they want to play at first-five, it doesn't. It's not the kind of position with which you can have a fleeting acquaintance. First-five is a specialist berth. It's time in the jersey that hones the craft - the challenges that crop up all being specific to the role.
It's one thing to be a rounded footballer, as both Slade and Brett are, but it's another to be an international standard first-five.
This is the point Graham Henry made a few weeks ago when he urged Brett and Slade to think about leaving the franchise.
"I think they have to for their own sake, for their own future in the game," said Henry.
"Obviously Daniel is secure and for the guys to move on in the game and see how good they're going to be ... I think when they're blocked, they have to make good decisions about what they do.
"I think it's important young footballers look at their situation and say 'OK' - their loyalty is one thing but it can be misplaced."
Rather than fume and snort at this, Canterbury's coaches and administrators need to take Henry's words on board.
And if they won't, then it will be down to Brett and Slade to take responsibility for their careers.
Brett is the most vulnerable and the one who has to make the toughest call. He's 24 and his career hasn't flourished the way many believed it would.
He edged to the periphery of the All Blacks this year by circumstance. He was overlooked by the Junior All Blacks and called up only when Luke McAlister was elevated to the national squad.
He took his chance from there and impressed Henry with the way he trained after being called into the national squad to cover for more injuries.
But that little bit of momentum he was building could come to an abrupt halt. Carter started last night for Canterbury and is going to be around for much of the campaign while he builds his form. So how is Brett going to push his claim for the end of season tour?
How is he going to continue to progress as a first-five next season when Carter will still be blocking his path?
For Henry to have been so frank, so clear in his belief as to what should happen, Brett should take note. There was surely an implicit message being sent that if he stays where is, the All Black selectors are likely to ignore him.
Brett needs to show the strength of character to walk away - to offer himself to the draft and show that he is serious in his desire to become an All Black first-five.
If he stays at Canterbury all he'll be doing is showing that he's serious in his desire to become a good footballer, not prepared to take a risk, to step out of his comfort zone.
Slade has time on his side. At 21, he can sit in Carter's shadow for a couple more years - starting the odd game for the Crusaders and building his experience during the provincial championship.