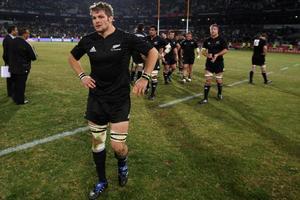 The All Blacks reputation will be on the line at Durban this weekend as they try to avoid their worst season in Graham Henry's six-year coaching tenure.
Henry warned of stumbles this year while his coaching team recruited a new layer of test players as they began reshaping the side for the next World Cup. Some of the seasoned players will come under intense heat later this year as Henry and Co decide whether to cut'em or keep'em for 2011.
But he would not have envisaged the tepid output in June and such modest Tri-Nations performances including yesterday's loss to the Springboks.
Henry's teams have lost just 10 of the 68 internationals since he took over and never more than two in a season. They have now been beaten twice in five tests this season and have another nine internationals left before their programme ends.
The Boks and Wallabies will sense more inroads while later this year the Home Nations will fancy a first success since Henry climbed into the coaching kit in 2004.
Since that start, Henry's selections have won three and lost four tests in the Republic.
From the moment Andrew Hore overthrew the first lineout until Jason Eaton's offside in a late maul, the All Blacks played with enormous spirit, but lacked the nous to retain their unbeaten test record in Bloemfontein.
They played with fire in their bellies, but their brains were not cool enough. Emotion took charge of the All Blacks. Instead of being calm enough to win in the white-hot fury of test football, the All Blacks played with the anxiety of teammates getting to know each other.
They won the scrums and competed at the breakdowns, but were hammered by the Lineout Lord Victor Matfield and outmanoeuvred at the mauls.
They could have claimed an improbable victory with a late cohesive strike on a faltering Bok side, but substitute halfback Piri Weepu had time to roll a smoke while he waited for his teammates to regroup and the ball to come out of a ruck.
When it arrived, his pass collected Eaton on the head and the halfback compounded the mistake as Jaques Fourie scored the test-clinching touchdown. Subsequently Eaton conceded a late penalty and with it, the chance of a bonus point.
The Lions showed the damage they could inflict on the Boks with an explosive running game, but the All Blacks either chose not to or were unable to follow that template.
This week the Tri-Nations series moves to a sea-level contest at Durban to witness the response from the coaches and the All Blacks. They have to decide who can front for a third straight week, how to fix the lineout frailties and what tactics are needed to claim an away victory.
On the Highveld at Bloemfontein, they scarcely got any width on the ball. Joe Rokocoko was restricted to reclaiming up and unders, Ma'a Nonu again struggled to find any assertive forays while Mils Muliaina lacked his usual bubble.
Brendon Leonard and Rodney So'oialo were out of sync and dragged in the third quarter while Neemia Tialata made his injury exit earlier after an inglorious showing including a quick drop out which cost a penalty.
The lineout needs a medic fast while there is enough sting being generated in the pack by Jerome Kaino, Brad Thorn, Isaac Ross and the frontrow. Jimmy Cowan should be returned at halfback while Donald had his best game in the black jersey.
But there is a disconcerting lack of clout or unity further out.
The backline structure is stilted. Conrad Smith scored a fine try from a cutout pass, but it was a rare constructive moment. Too often the backline resembles individual projects rather than any concerted moves.
Away wins in this competition are gold and it would not surprise if the All Blacks hit the jackpot in Durban. To do that though, they need some selections to stir the juices, they need to generate more enthusiasm and play with intuition blended with instruction.