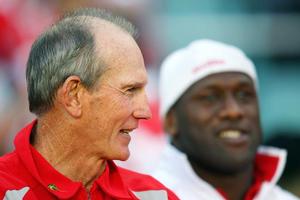 There is something magical about the St George jersey.
My 5-year-old little blokes get excited when they see dinosaur bones on television or in books.
I feel a similar excitement when I see St George run out on to the field wearing their famous white strip with a red V.
It stirs some of my earliest memories of league.
They have always represented to me what the great league clubs stand for. Strength, pride, competitiveness and - strangely enough - short hair.
As a kid I was given a book about league. That in itself was rare because there were few books in New Zealand at that time about league. But this book had Johnny Raper on the front cover.
Raper and Reg Gasnier, who were both playing at the time for St George, were featured throughout the book demonstrating the various skills of league.
However, the thing that impressed me and my mates was they both had short hair.
As young teenagers at that time (early Sixties) me and most of my footy team proudly wore our hair in the style of the Beatles.
Johnny Raper and Reg Gasnier changed all that.
We all thought: "That's the key to being a great player, we have to look like one - let's all get our hair cut." And we did.
My mum and I thought I was real good player but I don't think our selectors were much chop in those days. Because despite cutting my hair like Johnny Raper and Reg Gasnier, my footy career made no advances.
St George won a record 11 Premierships between 1956-1966. Gasnier and Raper both played major roles in those successes and are both Australian Immortals of Rugby League.
In later years I was able to meet both men and to me it was like touching the hand of a league god. I suppose in the same way a young rugby player at the time would idolise Colin Meads.
As a loose forward Johnny Raper had no equal and backrow forwards in the NRL today could do a lot worse than have a look at some of the old videos of him playing for Australia or St George.
He always carried the ball in two hands and was able to mesmerise opponents before they got near to him. He never lost the ball because he always either ran at a gap or delivered a great pass to his support. Carrying the ball like this also enabled him to have a good kicking game.
But it was his cover defence that set him apart from all others. Any player fortunate enough to break the defensive line rarely got past the second effort of Raper's cover defence.
Out in the centres Reg Gasnier was known as "Puff the Magic Dragon" such was his graceful running and elusiveness.
These St George players were stars equal to anyone who has ever played the game of league. And when you look at some of their teammates, such as Graeme Langlands, Billy Smith and Norm Provan, it's no wonder they created such a dynasty.
But while all that was happening in Sydney it's worth remembering at that time New Zealand had it's own versions of Raper and Gasnier. Bruce Castle was a Kiwi loose forward who displayed many of the same characteristics as Johnny Raper. In particular his cover defence saved countless tries in the same manner as Raper's.
The other was the Ponsonby and Kiwis centre Roger Bailey. Anyone going to watch Ponsonby play at Carlaw Park knew they were seeing something special. I often wonder about the impact he would have made had he played for one of the Sydney clubs in the sixties.
He was a player that had presence about him, a gift few have.
But it is highly unlikely the record of success St George enjoyed between 1956 and 1966 will ever be matched - quite simply the NRL are too focused on making every club the same.
This sameness has created mediocrity. Great teams of the past such as St George did not know what that word meant. But if ever a change could be introduced the Dragons have the coach to do it.
Wayne Bennett will know the book with Johnny Raper on it's cover. I'll bet he's read it - he devours books like them.
One of the reasons for his remarkable longevity and success as a coach is because he does study the past.
He was destined to coach the Dragons and they are a perfect match.
While in China last year, I came across the sayings of a bloke called Confucius (551BC-479BC). I think he was an old Chinese league coach. He said "study the past if you would define the future".
He may have been talking about Wayne Bennett.
The Dragons do not now have legendary superstars the likes of Raper and Gasnier, but they do have the cornerstone to build greatness.
Bennett is a student of the game as well as a coach, and make no mistake about it, he has got the Dragons breathing fire.
They have a very well-balanced outfit and it is hard to see them being slain this season.
History and Wayne Bennett were made for each other, so at Mt Smart on Sunday you may see the new Johnny Rapers and Reg Gasniers of this decade.
Don't forget also, the game here in New Zealand owes Bennett a debt of gratitude because he was largely responsible for the Kiwis' greatest ever success.
I know when I approached Wayne Bennett a couple of years ago to help the NZRL my idea was rubbished by many in this country.
In fact, thankfully the former chairman of the NZRL Andrew Chalmers was one of the few who could see merit in the idea.
Now, after a successful All Golds campaign and with the World Cup trophy in the cabinet, Wayne has become part of league folklore in New Zealand.
I don't mean to be disrespectful to Kiwi coach Stephen Kearney or any of his staff and players when I say this but without the experience of Wayne Bennett to help, the Kiwis would not have won the World Cup.