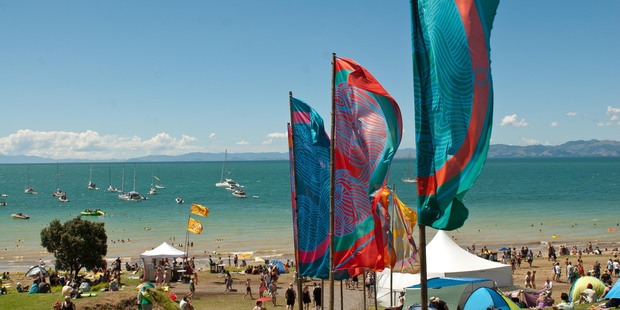 Entertainment: Creating a truly sustainable festival with zero waste and a low carbon footprint is a long-term vision of Splore founder and festival director Amanda Wright.
The music and art festival's mantra for the past decade has been "love and respect your Splore space, leave no trace" and the event, which will hold its tenth anniversary from February 14 to February 16, is making steady progress to becoming a zero-waste event.
"Sustainability has always been part of the Splore kaupapa and we are acutely aware of how precious the Tapapakanga Park site is," Ms Wright said.
"This year will see hundreds of volunteers working with the Splore team and key environmental partners to divert at least 70 per cent of the event's waste away from landfill and significantly reduce the festival's environmental impact."
Her goal is for Splore to be recognised as a benchmark green festival in New Zealand and abroad.
This requires both a financial commitment and a shift in behaviour and practices from staff, stakeholders and the festival community. The company engaged a dedicated sustainability manager this year to work across all festival departments and operations.
"Festivals can create a lot of waste from thousands of people living on site for three days so we are regularly communicating with our audience about precycling, which is about not bringing products on site that end up in landfill," Splore sustainability manager Dave Watson said.
"We have an excellent sorting and recycling system where nothing leaves the site without being sorted, separated and directed to the appropriate recycling facilities. All food vendors are required to use 100 per cent recyclable utensils and plates and are encouraged to buy Fairtrade, organic and local produce."
This year Splore became the first festival accredited by Conscious Consumers, a business accreditation programme and consumer movement in New Zealand. Vendors at Splore also have the opportunity to seek accreditation as Conscious Consumers traders during the festival.
Ms Wright was disheartened by the 55,000 single serve cups that went to landfill in 2012. "It didn't matter to me that the cups were biodegradable. I was convinced we could manage the cups a better way and we found the solution in the 'globelet'," she said.
The globelet is a reusable polypropylene drinking vessel that is made in New Zealand. The cup can be purchased for $2 and reused during the festival at all bars and drink stations. If not kept as memorabilia, the globelets can be returned and refunded at the end of the festival.
The globelets also help reduce the amount of glass coming on site, as does the festival's decision to serve all beer and cider from a keg system.
Organisers say a major goal is to reduce cars at the event by 20 per cent, a significant way to reduce the festival's footprint. They are encouraging those who might travel alone to the event to share a ride or opt for the affordable and subsidised transport provided by the festival.
"Car parking at Splore is free if there are three or more people in your vehicle, which includes children," Ms Wright said. Those bringing vehicles to Splore must pre-purchase a $50 vehicle pass, which is refunded at the gate to those transporting three or more people.
A percentage of revenue collected from the vehicle passes will go to three charities - Sustainable Coastlines, Project Crimson and Women's Refuge.
Splore is also establishing a benchmark to measure and assess its sustainability performance through partnerships with two internationally recognised standards in event sustainability.
Like what you see? For weekly Element news sign up to our newsletter.
We're also on Facebook and Twitter.