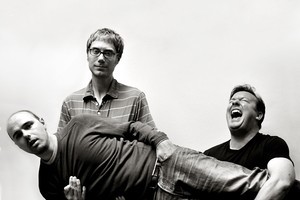 MOVIES
The annual Documentary Edge Film Festival starts on Wednesday next week and TimeOut's film reviewer Peter Calder has done the hard yards to sort out some of the best docos in the week-long festival.
Meanwhile, starting today is spy thriller Fair Game with Naomi Watts as undercover CIA agent Valerie Plame who was outed by the White House; the true story of mountain climber Aron Ralston is told in 127 Hours; animated family movie Gnomeo and Juliet is based on the Shakespearean love story and the all-star cast of hitman comedy Wild Target includes Bill Nighy, Emily Blunt, and Rupert Everett.
TV
The new season of television keeps on rolling, with Madeleine Sami taking on the roles of Pasha the cheerleader, Jo the personal trainer, and Azeem the taxi driver, among others, for hers and Taika Waititi's new comedy series Super City (Friday, 10pm, TV3).
Marcus Lush hits the north in North (Sunday, 7pm, TV One) to meet some interesting locals and visit some weird and wonderful places and in An Idiot Abroad (tonight, 9.30pm, TV3) Ricky Gervais' moaning mate Karl Pilkington sets out on a voyage of discovery to the Seven Wonders of the World - and all he can do is complain. There's also new Australian comedy drama Offspring (TV One, Sunday, 8.30pm) about lovely and quite often maddening obstetrician Nina Proudman, and superhero comedy No Ordinary Family (tonight, 8.30pm, TV2).
MUSIC
This week is all about music in unusual places, from Che Fu and the Kratez at Auckland Zoo on Saturday from 6pm, to the Topp Twins putting on a hoe-down among the vines at Ascension Estate in Matakana on Sunday (6pm), and the big one, Live at the Islands over on Motutapu on Saturday from midday which features Anika Moa, Nathan Haines, the Wellington Ukulele Orchestra and more. Or you could be thinking about going to the electronic-dance-soul music equivalent of Laneway, Splore.
OR...
... lads, this is for you, remember to order your two dozen red roses early and don't leave it until Monday. It's Valentine's Day remember? And to show you really love that special someone, don't just rely on the flower of love to do its thing. Perhaps write a poem, cough up for a fancy dinner, or, even better, rustle up something special in the kitchen at home.
-TimeOut