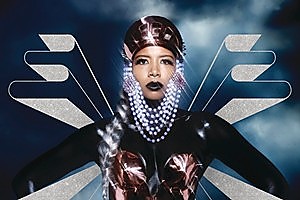 Rating: 4/5
Verdict: No milkshake in the 22nd century
Kelis' fifth studio album sounds like she is throwing dirt in the eyes of her ex, rapper Nas, with whom she unceremoniously split last year.
A few months later, the saucy R&B star, who is best known for her booty-shaking 2003 single Milkshake, became a mother. If this album is anything to go by, the change seems to have turned her into a futuristic bionic woman living in a surreal strobe-lit world.
She has moved on, she autotunes, "welcome to the 22nd Century" - an era, by the sounds, that involves lots of fake leather (pleather) and lime-green cocktails.
The pulse subsides briefly during single 4th of July, which features sultry vocals over a nice rumbling piano, while others like Home are meaty tracks with screaming synths that will drive the ravers crazy, and no doubt be mashed to a pulp by Saturday night DJs.
David Guetta helped write and produce Acapella, where church bells and a tribal beat call clubbers to the floor to have dirty beats beat up their brain cells.
Perhaps this is the mind-altering track that inspired her odd half-human, half-greyhound image on her album cover.
Kelis has changed all right, but before you decide she is having an existential crisis, trying to assert her youth and deny motherhood, note that her final track is called Song For the Baby. It's much less raunchy than the others, but let's just hope her wee one likes plenty of synth in its lullabies.