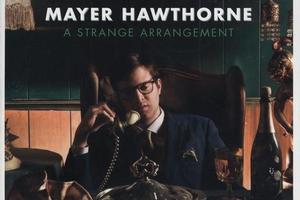 Rating: * * * *

Verdict: The sound of 60s soul today from golden-voiced US singer and player
As well as the old-school R&B influence of Smokey Robinson, and the smooth, trippy soul of Curtis Mayfield and Isaac Hayes, there's more than a hint of Justin Timberlake's pop sensibility to Mayer Hawthorne's tunes.
Then, of course, he's also similar to Timberlake in that he's an unassuming white boy with golden vocal cords and a falsetto with a killer tenderness.
The 30-year-old's voice is at its high-falutin' and heart-fluttering best on the loping hip-hop-meets-love-lorn 60s soul of Just Ain't Gonna Work Out, but then he turns in a more normal and jaunty vocal on the brassy Maybe So, Maybe No.
At first, A Strange Arrangement, comes across as purely a spin-off of that golden era of soul and R&B from the 60s, with One Track Mind having a Baby Love lilt to it and Make Her Mine a melodic nod to People Get Ready.
However, with deeper listening, not only does Hawthorne's simple and sweet turn of phrase win you over but the playful arrangements and solid instrumentation - of which he does the lot - reveals a refreshing and inspired new 60s soul sound for today.
Late in the the album he gets a wiggy, brassy and percussive groove on The Ills, a song with some serious sentiment and a party at its heart.
If you liked the Motown influence on the Opensouls album Standing In the Rain from earlier this year, then Hawthorne's the man for you.
Scott Kara