Growing numbers in school programmes shows youth-aimed initiatives paying off.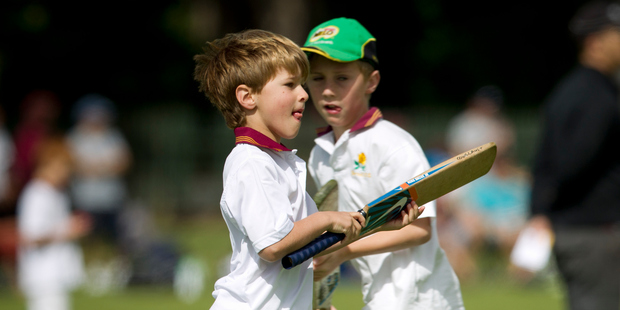 It's Bloodworth Park in Parnell, a warm, sunny Saturday morning, and the scene unfolding is replicated around the country through summer.
The future of cricket is on show, bundles of enthusiasm, parents enthusiastically supportive. Calls of "great catch Richard", "well done Archie!" punctuate the air.
The grade three Parnell Lions are playing Grafton, 8-year-olds, full of beans, who love their cricket. They don't unduly bother themselves with the travails of the national team. Bring the New Zealand players down here and they'd be swamped.
Four boys, four different favourite players. Out of the mouths of, well, young boys, you get a different perspective of the current situation.
Cole Osborne (favourite player: Tim Southee, "because he bowls fast, like me") has an admirably philosophical view.
"They have bad games and good games. You can't have all good games," he said.
Or take Jack Wright (FP: Trent Boult) who "just loves it". They're not playing well but ... "in Sri Lanka they played great, and in Australia (Hobart) last year". So you get sad or cross when they play badly? No, "because if we lose against South Africa, then we still have a hope of beating England".
These kids know their cricket. Charlie Couillault (FP: Brendon McCullum) and Oliver Jarvis (FP: "Ross") have both been to watch New Zealand at Eden Park.
"I like how he hits his fours," Oliver said of Taylor. He probably spoke for the quartet: "It's okay to lose, as long as it's not too often."
The nursery of the game is in good heart, according to New Zealand Cricket's general manager of cricket development Mark Lane.
The 2011/12 NZC census shows 111,829 participants in all forms. That breaks down into 55 per cent playing traditional club cricket, 16 per cent in the Kiwi Cricket programme, 6 per cent play in the Have a Go programme and 23 per cent take part in other competitions, such as twilight or mid-week cricket.
Participant numbers are up 1.2 per cent from a year ago, and since 2000 show around a 45 per cent overall increase.
Lane believes NZC are providing a good range of options - in children's alternatives and notably for adults not able to spend a full day, but still keen for a slimmed-down version - that has them on the right track.
"We modify our cricket so we're really strong in the junior and primary school side of things. We're looking at what they want and are trying to create formats that engage with them better," Lane said.
"That's where we get our continual growth, while maintaining traditional numbers among adults. There, we are getting growth by creating short-form competitions in times that suit.
"You might [have a format that lasts] an hour and a half, you don't need a truckload of gear. The success of the programme is us understanding what we need."
Have A Go is a programme teaching children from 5 to 8 years a set of six skills, two batting strokes - a cross bat shot like a pull, and a front foot drive - basic catching and bowling actions, as distinct from the runups.
Kiwi Cricket is from 7 to 10 years, adds further skills and moves kids up towards playing "proper" games.
An in-school programme, where teachers are trained how to run practice sessions, is proving successful.
From there NZC is running five national schools competitions: the primary school tournaments for boys and girls, followed by the junior secondary schoolboys for years nine and 10, then the Gillette Cup (boys) and NZ Community Trust (girls) senior secondary schools events.
In Auckland the numbers for the primary school tournaments jumped from 44 to 69 entries this year. Gillette Cup numbers have increased from 192 to 209 nationwide this year. So a pathway is there to follow.
"It's how we engage with participants in terms of making it easier for them," Lane, a former first-class wicketkeeper with Wellington, Central Districts and Canterbury, said.
"We've got a skill development pathway, and as you go through the programmes getting the skills is incredibly important. With success you want to keep playing, whereas if we don't enable skills to be taught, they won't have success and if you're continually knocked back, well there's lots of other choices out there."
One other initiative, a leavers' database, is running to try to trim the drop off in players about to leave school. For example, if a group of players are leaving Blenheim for Canterbury University, with the players' approval information on them and their abilities is forwarded to Canterbury Cricket to be dispersed among the clubs.
So it all looks positive, but Lane, who has been in the role three years, is cautious.
"You can always do a better job. But ... if there's anything we've done well over the last couple of years it's that we have a better understanding of what's needed."
The series
Monday: The Herald series began with exploring the "disconnect" between New Zealand Cricket and the fans, and asked if this is the worst period in New Zealand's test history
Yesterday: New Zealand cricket and the media, the brand NZC Inc and the Black Caps moniker.
Tomorrow: The state of New Zealand's high performance programme, and does NZC give up on international players too young? Mathew Sinclair and Lou Vincent think so.