Playing future of repeatedly concussed players must be taken out of their hands in the interests of the game and its reputation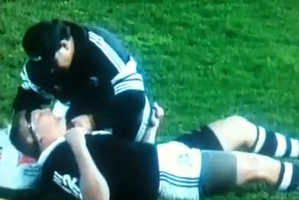 The names of Leon MacDonald and Steve Devine will for ever be linked. Not only were they All Blacks contemporaries but their rugby careers will always be associated with struggles with head injuries. Both played on long after both multiple concussions and common sense suggested they should have retired.
They were able to do this even though another All Black, Nicky Allen, died in 1984 after suffering a catastrophic head injury while playing in Australia. His death pointed to the potential perils of a history of playing-related concussions. Now, research in the United States has confirmed there must be no repeat of the cases of MacDonald and Devine.
This week, a Herald series has looked at the US research and its implications for rugby and rugby league, games in which players are inherently exposed to head injury. Much of the evidence relates to Mike Webster, a legendary American footballer whose brain matter indicated a connection between head injuries and degenerative brain disease.
No longer can the effects of concussion be considered just short-term nausea, dizziness and migraines that resolve themselves within 10 days or, at worst, three months. In a minority of cases, serious long-term neurological problems are the price of repeated concussions.
Steve Devine offers local evidence. Daily intense headaches, poor concentration and fatigue did not disappear when he was forced to give up the game after a series of serious head blows.
Yet despite such cases and the American research, the New Zealand Rugby Union has been relatively slow to react. It has, with the International Rugby Board, commissioned research into the long-term health impacts of rugby on elite and amateur players. But the results of this will not be known until November next year.
In the meantime, its response has been limited to using the national provincial championship to test a system that sees players who get a knock to the head allowed off the field for five minutes' assessment. That procedure is triggered by either the referee, the team doctor or, importantly, the independent matchday doctor.
The need for a new approach was illustrated graphically at the last World Cup, where players were examined by a doctor for an average of 78 seconds. That said much about the prevailing attitude, a sentiment aided and abetted by players' determination to return to the field.
The latter attitude is reinforced by the fact that rugby is now a professional game. Players who rely on it for their living and perhaps have no other skills are, naturally enough, loath to heed warnings that would limit or even terminate their earnings.
Rugby's administrators need to take a tougher stand. The overseas evidence is compelling enough to opt for caution without waiting for local confirmation. Explicit rules must be set for head injuries, and the rugby union must ensure these are adhered to. Clearly, the current stand-down guidelines are being flouted, particularly at club level.
One of those new rules must see the on-field future of repeatedly concussed players taken out of their hands. The long-term risk is so great that it can no longer be left to them to determine what is in their best interest.
Nothing less than a comprehensive response will adequately serve the interests of the game and its reputation.