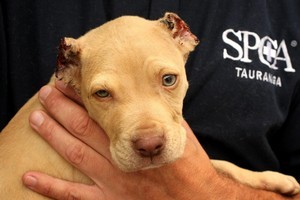 The pit bull puppy found in a Tauranga shopping area with his ears chopped off will head to a loving new home today.
Eight-week-old Trooper has been living at a foster home in Tauranga since he was delivered to the SPCA on November 27.
The pup was dropped off at the SPCA after being found by a member of the public outside the Gate Pa shops.
Tauranga SPCA manager Margaret Rawiri said the pup, now named Trooper, would head to "a nice family home" out of the area today.
"Mainly because we don't know enough about his past to want to re-home him in Tauranga," she said.
Mrs Rawiri said staff at the SPCA had worked through a long list of people keen to provide Trooper a new home.
"We've gone through and worked out which ones we think most suit and done our normal adoption process so we can ensure the puppy has the best chance," she said.
Mrs Rawiri said Trooper's new family met all the conditions required of his adoptive home and currently owned a pit bull.
"They know how to deal with pit bulls and give them the best chance at training," she said.
Trooper's new owner, who did not wish to be named, said the family chose to adopt him, "because even at such a young age, he's visibly had a hard life so far and we know we will give him a settled and loving home".
The owner said they were aware of the negative stereotypes surrounding the pit bull breed and wanted to ensure Trooper would not end up with someone who kept him locked away or around people who would discriminate against him.
They planned to raise him around other animals and children so he could be a positive endorsement of how pit bulls could be friendly and placid, they said.
"We also think that the person who did it should get the maximum penalty because they obviously were trying to crop his ears which suggests that he would have been raised for the purpose of dog fighting, so the intent of sustained abuse is blatant."
Mrs Rawiri said Trooper's ears had healed very well.
"He's just a really nice puppy, very relaxed. After such a traumatic start he's doing really well."
Tauranga SPCA inspector Jason Blair visited a house where Trooper had been after his horrific ordeal.
Mr Blair is currently attempting to gather further details and waiting for any more information to come from the public before taking the matter to court.
The reward for information stands at $1200.
If you can pass on any information, phone (07) 578 0245. Callers may remain anonymous.

For more articles from this region, go to Bay of Plenty Times