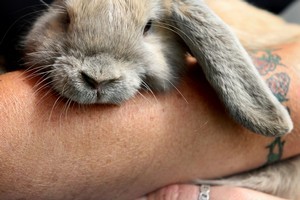 An Auckland man has been fined $500 after a judge found him guilty of swinging a rabbit by its ears and thrusting it at passers-by in the city centre.
Graham Paul Brown, 53, was found guilty in Auckland District Court today of charges of animal cruelty and assaulting police following a defended hearing before Judge Greg Davis yesterday.
Judge Davis found him not guilty of a charge of disorderly behaviour.
Brown was fined $500 on the animal cruelty charge and given a six-month suspended sentence on the charge of assaulting police, laid after he spat on a police constable trying to arrest him following the incident on February 19 this year.
Brown said in evidence yesterday that he was trying to show the animal off to city dwellers, saying he thought it would amuse people who probably hadn't seen a rabbit before.
He also said he was holding the rabbit in two hands, one at the base of its ears and the other on its torso.
But Judge Davis today said he accepted the evidence of security guard Mark Nixon, who said he saw Brown holding the rabbit by its ears and thrusting it towards pedestrians.
He said Mr Nixon had no reason to fabricate his evidence, while Brown had consumed some methylated spirits and had said he was intent on showing the animal to the public.
He added that the swinging had caused the rabbit unnecessary distress.
Judge Davis said he also accepted the evidence of two police officers, Justin Donaldson and Hyun-a Lee, who said Brown deliberately spat at Ms Lee while they were arresting him.
However, he said Brown's conduct did not reach the legal test for disorderly behaviour.
- NZPA