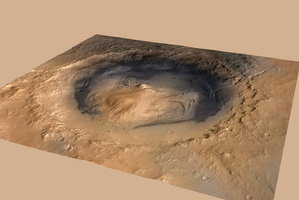 India's Prime Minister says his country will launch a space mission to Mars next year.
Manmohan Singh said the mission would be a huge leap forward for science and technology, but critics said the nearly $100 million needed for it could be better spent.
During a speech to mark the 65th anniversary of India's independence from Britain, Singh said the unmanned orbiter mission would be launched in November next year, making India the sixth country to launch a Mars mission.
"Our spaceship will go near Mars and collect important scientific information," he said. "It will be a huge step for us in the area of science and technology."
The mission to Mars is seen as an attempt to develop the space programme and push India's credentials as a growing world power.
During his speech, Singh also praised those scientists responsible for the launch this year of the Agni V missile, which is capable of reaching Beijing and other Chinese cities.
Yet some have questioned the need for a mission to Mars when India's creaking infrastructure is under such pressure and when countless millions live in wretched conditions.
At the end of last month, two widespread power cuts on consecutive days left hundreds of millions of people without electricity.
Veteran environmentalist Vandana Shiva said: "The money could be used on other things. You could make sure no child goes hungry; you could make sure your economy is sustainable and that you don't need to dam every river."
Last week, the former head of the Indian Space Research Organisation said the country's space programme should focus on manned missions rather than Mars.
G Madhavan Nair told the Press Trust of India the Mars mission was "only a very small payload with a not very big scientific objective".
"We cannot say we can make an impact nationally or internationally with that."
But Singh's plan gained support from some opponents.
A senior member of the Communist Party of India (Marxist), Brinda Karat, said: "There are many pressing priorities. But India has always been committed to the development of science. I don't think we should see these things as contradictory."
In his speech, Singh also addressed the question of the country's economy, saying that national security was at risk if growth was not boosted and steps not taken against widespread corruption.
In recent weeks, the country has been rocked by populist protests against corruption, and some activists say the Prime Minister has failed to act.
"We want to create a system in which money from government schemes - pensions for old people, scholarships for students or wages for labourers - can be credited directly into people's bank accounts," said Singh. Independent