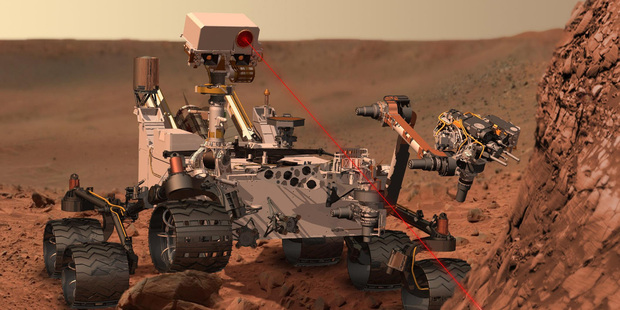 They call it the seven minutes of terror, and for good reason. This is the perilously short time Nasa scientists have given themselves to land a space probe on Mars that will hit its atmosphere at more than 21,000km/h.
Tomorrow, a few seconds after 5.30pm if all goes to plan, Nasa will know whether a US$2.5billion ($3b) gamble on a heat shield, eight retrorockets and three nylon lines has paid off.
For the first time, a landing vehicle will be gently lowered to the surface of another planet using nylon tethers suspended from a mother spacecraft hovering precariously overhead.
A safe landing will be the culmination of a hair-raising journey through the atmosphere seven minutes earlier as Nasa's Mars Science Laboratory mission begins its entry and descent to the surface of Mars.
A 15.5m-wide parachute will be deployed about 254 seconds after entry to slow the craft as the heat shield is jettisoned, and video cameras and retrorockets begin to take control of the final few minutes of the descent.
The retro-engines are designed to slow the probe when, just 20m above the surface of the planet, a "sky crane" will lower Curiosity, a six-wheeled rover vehicle the size of a Mini, on the three nylon tethers.
On touchdown, the mother craft above will cut the tethers and crash land away from the landing site so as not to interfere with Curiosity's instruments designed to analyse Martian geology and search for fossilised signs of life.
- The Independent