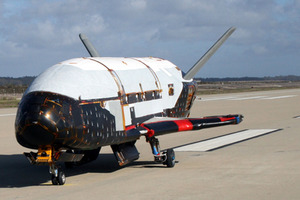 Boeing's second X-37B Orbital Test Vehicle landed in California after a 469-day mission by the US Air Force to test the capabilities of reusable unmanned vehicles for space missions.
The pilotless spacecraft, which was launched from Cape Canaveral, Florida, on March 5 last year, landed on a runway at Vandenberg Air Force Base.
"With OTV-1, we proved that unmanned space vehicles can be sent into orbit and safely recovered," said Paul Rusnock, Boeing vice-president of Government Space Systems.
"With OTV-2, we tested the vehicle design even further by extending the 220-day mission duration of the first vehicle, and testing additional capabilities."
Originally a joint research effort beginning in 1999 by Nasa, Defence Advanced Research Projects Agency and Boeing, the programme was transferred to the air force in 2004. The X-37B, at 8.9m long 3m high and with a wingspan of 4m, is about one-fourth the size of the recently retired space shuttles. The vehicles were designed to stay in orbit for 270 days. Boeing said OTV-1 was America's first unmanned vehicle to return from space and land on its own.
- BLOOMBERG