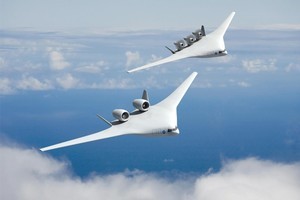 Late last year, the United States space agency Nasa awarded contracts to three teams - Lockheed Martin, Northrop Grumman and Boeing - to study advanced concept designs for aircraft that could take to the skies in 2025.
At the time of the award, each team gave Nasa a sneak peek of the particular design they planned to pursue. Although each design looks different, all final designs have to meet Nasa's goals for less noise, cleaner exhaust and lower fuel consumption.
Each aircraft has to be able to do all of those things at the same time, which requires a complex dance of trade-offs between all of the new advanced technologies that will be on these vehicles.
The proposed aircraft will also have to operate safely in a more modernised air traffic management system.
And each design has to fly up to 85 per cent of the speed of sound; cover a range of 11,000km and carry between 22,600kg and 43,200kg of either passengers or cargo.
For the rest of this year, each team will be testing, simulating, keeping and discarding innovations and technologies to make their design a winner.
The companies' designs vary greatly.
The Boeing aircraft looks similar to a military stealth bomber, while Lockheed Martin's design looks more like a modern-day airliner.
Northrop Grumman's twin-fuselage design has similarities with Virgin Galactic's WhiteKnightTwo, the mothership for launching passenger spacecraft.
The only thing all three had in common was the disappearance of engines from the outer wings. Boeing and Lockheed Martin moved engines to the tail of the plane, while Northrop Grumman's engine sat between the two fuselage.
Sponsored by Nasa's Environmentally Responsible Aviation Project, the work follows an exercise that looked 10 years further ahead, inviting designers to offer concepts for how we might fly in 2035.