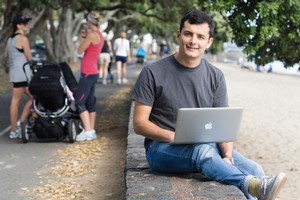 There's a joke to be had about a Kiwi, a flightless bird, heading to space.
But that's exactly where New Zealand tech entrepreneur Derek Handley has his sights. He has already put down the deposit for a ride on one of Sir Richard Branson's Virgin Galactic space flights.
Back on earth, the founder and chief executive of mobile marketing company The Hyperfactory has just signed a deal with Claridge Capital, hoping to get his new venture, Agent M Group, off the launch pad.
It's the latest challenge for the 32-year-old, who ran The Hyperfactory for nine years before it was bought by US-based Meredith Corp in 2010 for a sum thought to be over US$20 million ($26 million).
That's one giant leap for a kid who went to school at Auckland's Selwyn College.
While The Hyperfactory creates and develops ads for mobile browsers and apps, Handley said his new company focuses on helping clients into mobile advertising and giving them the tools to manage and monitor their ads.
Agent M Group consists of two entities: Snakk, which works with clients to get their ads on mobile internet sites and applications, and Agent M, which is the cloud software where clients can see how their ad is performing.
Both were formerly part of The Hyperfactory, but were never developed or allowed to reach their full potential.
When Handley made his deal with Meredith, Agent M Group was formed as a separate entity.
"I think that the timing for this is better [now]. I just think where the mobile space is - most of the money is going towards the purchasing of ads, which is not what the Hyperfactory does. The Hyperfactory makes ads, and it makes applications, but it doesn't really benefit from the uplift in the actual advertising space."
Handley is keen to get a head start in the Asia-Pacific mobile ad industry, a market which has exploded in America and is set to be worth US$10 billion annually within the next three years.
"The opportunity is enormous. You have one billion phones in India, and one billion phones in China, everyone in Australia has a phone and you have this wave of mobile media becoming the predominant sector within digital [advertising]."
"My interest is in doing another Hyperfactory again - another trick pony. We're taking all the learning we've got, having been in the US," Handley said.
Given the vacuum of players in the Asia-Pacific market, Handley said his new start-up had room to move, with almost a free hand to play.
"All that Agent M has to do is do a good job ... and be careful and grow tentatively to have a really good position," he said.
Even if giants like Apple and Google migrate into the market, Handley predicts demand for mobile advertising will be so strong that small companies can still compete. "It's just so big, there's so much room for everyone, even with Google and Admob and Apple," he said.
If New Zealand tech start-ups want to get ahead, Handley said they need to concentrate efforts to ride the mobile wave.
"Focusing on tablets and mobiles - that's the future. If we have 100 start-ups and they're all doing different things, there's no knowledge being built, there's no expertise," he said.
Handley also said the Government needs to make New Zealand more attractive to investors with deep pockets looking to put money into New Zealand start-ups.
He cited American Paypal founder Peter Thiel, who has put money into the local Pacific Fibre initiative, and Xero, as the type of players who could transform New Zealand industry.
'You just need 10 Peter Thiels and you could change this country forever. No one seems to realise that, there's moaning about this year's Budget, but that dude has more money than the whole of Auckland," Handley said.
"Ten of those people could do more than five sets of government, if the one government realised how important they can be, and I think that's the piece of the puzzle that is missing."
And although he thinks New Zealand lacks "big picture" thinking, Handley laughed off questions that a space flight was outrageous and predicts he will be going into orbit in the next few years.
He is one of about 390 people who have paid a 10 per cent deposit on their US$200,000 tickets for the first rides on Virgin Galactic space flights.
"It's just [trying to do] something that no one else has ever done before right?"
DEREK HANDLEY
* At 22 became New Zealand's youngest managing director of a listed company - Feverpitch.
* Founded The Hyperfactory with his older brother in 2001.
* Born in Hong Kong but went to school and university in New Zealand and now lives in New York.
* In 2009 was named Ernst & Young Young Entrepreneur of the Year
* Plays poker and polo in his spare time.