Jan Wright, Parliamentary Commissioner for the Environment, explains why it is important we start thinking of our planet, and species, as a whole.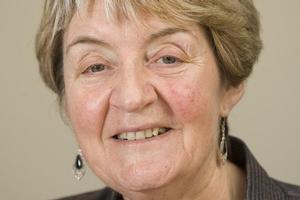 Astronauts get a wonderful view of the world. I once read: "For those who have already experienced it, the beauty of the planet has been an epiphany, eliciting deep concern for Earth's health, a visceral understanding of human 'oneness', and clarity about the interconnectedness of things. Unlike those of us here among the trees, they have seen the forest." (SEED Magazine 2007).
In December 1968 the crew of Apollo 8 took the first photo of earth from space. This image, called Earthrise, shared an astronaut's view with the public for the first time.
People could see the lushness - and limits - of Earth against the vast nothingness of space. It is no wonder this iconic image really propelled the environmental movement into popular consciousness.
Nowadays we are awash in Earth images. Earthrise is certainly beautiful, but doesn't elicit as much emotional response in this Google Earth era. But there is one picture that should.
On the web it's easy to find: a montage of satellite photos of the Earth at night. These are generally dark maps, the familiar continental outlines lit by criss-crossed road lighting meeting in bright focuses of cities. Some areas, like the East Coast of the United States, or Europe, or Japan are dense blocks of bright light.
You cannot look at these images and not be struck by two things. First, almost all land is dominated by humans. We definitely do alter things on Earth. Second, we humans are energy wastrels. All that light energy radiating out into space for no one to see.
It is a graphic demonstration of the impact on the Earth of the resource-intensive way we live. And no impact is more of a problem than climate change.
We can deal with the climate change problem we face today by applying a lesson learnt in the past - how people in medieval Europe shared their resources.
Back then, villages relied on land held in common ownership to graze stock and collect firewood. Each individual household could benefit from increasing their herd or taking more firewood.
However, if everyone behaved like that eventually the land would become barren, supplying no fodder or firewood to anyone.
To avoid this, villagers worked together to set limits on numbers of stock and how much firewood each household could take. Such co-operation comes from a sense of community.
Like a village common which could only feed a limited number of stock, our shared atmosphere can only absorb a limited amount of our waste gases without changing natural climate patterns.
We must agree on limits to emissions.
But it's hard to create a sense of community across the whole Earth.
Earth Hour calls for people to turn off their lights for one hour this Saturday, March 27, at 8.30pm local time. Of course Earth Hour is largely symbolic, but it highlights what we, humans everywhere, share.
So far 1100 cities in 92 countries are signed up to take part this year, including many famous landmarks such as the Golden Gate Bridge and the Tokyo Tower.
I've read that even our very own Paeroa L&P bottle is switching off.
Last year apparently hundreds of millions of people from around the world took part. To create a sense of global community, I can't think of anything better.
Imagine what Earth Hour might look like from space, as hour by hour lights switch off round the globe.
I can't tell how much of Earth Hour activity will be visible from space.
But they say Las Vegas can be seen, and they'll be switching off their neon lightshow. If Las Vegas can do it ...
On Saturday at 8.30pm I'll be thinking of the astronaut's view and reaching for my light switch. I've challenged my staff to join me and spend some time thinking about our beautiful, limited, planet. I hope you will too.