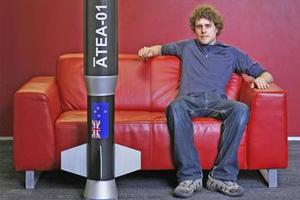 People always say: "So, you're a rocket scientist?" Can we clear this up straight off? There is no such profession. I prefer to call myself an engineer, anyway. But at least it's something that gets a reaction from most people, even if it's usually disbelief and a cautious curiosity. Saying "Hi, I'm Peter and I design, build and launch rockets to get into space" isn't the easiest thing for New Zealanders to believe.
Getting involved in this game means hundreds of hours of slog working through the design, analysis, calculations and manufacture before you get to those few seconds of fun engine testing. So, a typical day consists of about 12 hours of sitting in front of my computer running structural simulations and hopefully testing getting to the point where I can push a rocket motor to within its absolute limits of endurance.
Rocketry has been a part of my life for so long that I struggle to even think of anything else. When our rocket was sitting on the launch pad, tanked up with propellant, and stuck with a jammed coupler as the whole country watched I have to admit that I did get slightly angry.
Still, I got my belly-laugh in the end, just as Atea 1 disappeared into the clouds on a perfect trajectory with a perfect motor burn.
The initial sense of failure was as important as the eventual success. A failure often teaches you more than success, so a good life lesson every now and again doesn't hurt to make you realise your mortality and spirit you into working a bit harder.
If I had to give up on one pleasure it would have to be sleep, it's treasured because it's so often out of reach and forgone.
The most important word I'd love to hear right now is: "Sold". That's what we really need right now to get Rocket Lab and the New Zealand space industry really moving. c Peter Beck is the chief executive and technical director of aerospace company Rocket Lab, which last month launched New Zealand's first rocket, Atea 1, from Great Mercury Island in the Coromandel Peninsula.