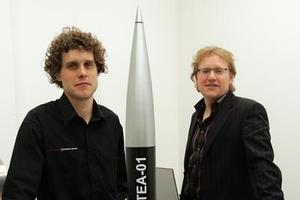 A booster from New Zealand's first home-grown space rocket has been found in good condition.
The first stage booster was located by a fisherman about half an hour by boat from Great Mercury Island, off the Coromandel coast, this morning.
Rocket Lab director Mark Rocket said the booster, which provided the main thrust to launch the rocket, would provide valuable data about how the engine burnt.
The payload had not been found and was likely to be "bobbing in the ocean" about 50km away, he said.
Mr Rocket was optimistic of finding the payload in good condition and urged any marine traffic in the area to keep a lookout and take note of GPS co-ordinates.
The rocket, dubbed Manu Karere, or Bird Messenger, was launched from Great Mercury Island yesterday afternoon.
The six-metre long, 60kg, rocket reached its target speed of up to Mach 5, or 5000km/h, and flew to an altitude of at least 100km before splashing down.
Mr Rocket said once found, the payload should not be handled as it was "potentially hazardous" and contained delicate instruments.
- NZPA