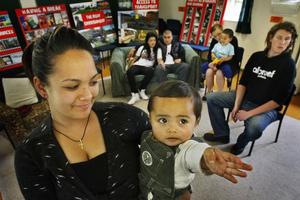 A group of Auckland teenage parents want to create what could be the world's first integrated support centre for teenage mums and dads.
The 26 young parents, supported by the Auckland Women's Centre, say there are teen parent education units for mothers but little broader support - and nothing for teen dads.
They want a centre with links to services such as pregnancy and parenting classes, relationship counselling, Work and Income and Housing NZ, as well as a creche and space for parents to just "have a break" with other adults.
"We want a place where you can go for help if you just need to talk to someone," said Jenaya Johnston, 18, who became the mother of baby Kingston Taliu 10 months ago.
"It should have information and pamphlets on how to further your education, but it should be homely."
Ms Johnston has just finished her high school education at Eden Campus, an education unit for teen mothers in Mt Eden which is affiliated with Auckland Girls' Grammar School.
"Everyone there was in the same boat, even our teacher was a young mother, so you don't feel judged," she said. But she said teen dads such as her baby Kingston's father felt "sidelined".
"His dad didn't finish school. He was going to go to university, but when I fell pregnant he had to get a job," she said.
"If there was something like school or even summer school, just to know it was there would help. You need to work, but at the same time you have to pursue your own goals."
Olivia Gray, 17, whose son Nukutawhiti is 2, said she wanted a centre that would encourage teen dads to get involved: "If they see other dads doing it, they might think, 'Shoot, if they're doing it maybe I should too'."
Thomas, a 22-year-old dad with two girls aged 3 years and 15 months, said: "There's not really much out there. There's the women's centre but it's not exactly for guys."
Jerome Sirikige, 19, and the father of a 17-month-old boy, said he wanted to see anger management and living without violence classes.
The Auckland Women's Centre and researchers at Massey University have been funded by the Lottery Grants Board, the Tindall Foundation and other funders to investigate the teen parents' needs.
A steering group has begun talking to government agencies and funders for what would be the world's first integrated centre for teen mums and dads.
TEENS BY NUMBERS
* Just under 5000 babies were born to mothers under 20 in the year to June, or 8 per cent of all babies.
* 3.1 per cent of young women aged 15 to 19 had babies in the year to June.
* The teen birth rate has been rising since a low of 2.5 per cent in 2003 and is now back to its level of the 1990s.
* NZ has the fifth-highest teen birth rate in the OECD, behind Mexico, Turkey, the United States and Bulgaria.
ON THE WEB
www.awc.org.nz/13/index.php?mid=13
www.youngparent.org.nz