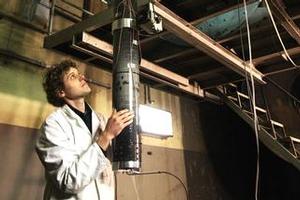 A small New Zealand company hopes to launch the country into the space race.
Yesterday at Air New Zealand's Auckland engineering base, privately owned aerospace company Rocket Lab completed the final ground-based test of its Atea 1 rocket.
Company founder Peter Beck said he had spent 15 years on the project and his firm was now ready to launch the Southern Hemisphere's first commercial space programme.
Rocket Lab aimed to provide space access for the global scientific community at a significantly lower cost than international space programmes, he said.
At present, scientists were restricted to using ex-military rockets launched from just a few sites and often had to wait years to send their instruments into space.
Mr Beck said the firm's purpose-built launch platform meant scientists would not have to over-engineer their instruments to cope with the thrust of a conventional rocket.
And the rocket won't damage the environment as the unique hybrid fuel technology used in it produces non-toxic emissions.
"Our competitors use solid fuel technologies and the emissions of those are very nasty," he said.
The white coats behind the technology are Mr Beck, the technical director, and his senior engineer, Nikhil Raghu. They have worked together for three years on the Atea 1.
Until four months ago, they had tested their rockets "in a mud-puddle" at a quarry in Manukau. Then Air NZ came to the rescue with an offer to use an old jet-engine test cell.
Air NZ gas turbines manager Richard Ison said the company was happy to support this innovative business.
"We can identify with what they are doing - a small Kiwi company taking on the big established players and having a fresh approach that blasts through the barriers of conventional thinking.
"It's using Kiwi ingenuity but doing something which is world class."
In yesterday's test, the 6m-tall, full-scale rocket was secured for its firing and observers sat on the other side of the test cell behind six layers of glass and two 20cm-thick concrete walls. The fuelling was long but the firing was over quickly: a puff of grey smoke, a roar and a plume of flame from the base.
In a real launch situation, the thrust from the motor would boost the 13kg rocket to an altitude of 120km (space starts at 100km) in about 150 seconds.
"It was a good burn," said Mr Beck. "We'll need to crunch the data but it sounded good."
Now that final tests are completed, Rocket Lab will finish building its space-bound vessel.
Mr Beck said that when the rocket was launched from Great Mercury Island off Coromandel next month, New Zealand would join an elite international group.
"It will change our status and we'll be classified as a launch nation. Basically this is the start of New Zealand's space programme."