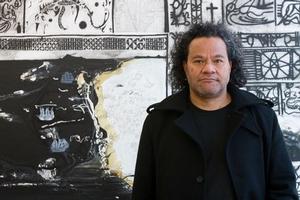 John Pule is squatting down when I arrive at his studio, working on a canvas with a fine brush. "Just doing the finishing touch," he says, pointing to the tiny sailing ship he has just added to the web of lines and scumble.
"The show is about oceans, what happens with the ocean, what we do with it, and how we use it and get from one place to the other." The larger paintings are at the gallery, and we stand looking at the five smaller works pinned up along the long wall. In the centre of each is a dark area, a mass of poured enamel and varnish.
"Is that Niue?" I ask, thinking the shape looks like the uplifted coral rock Pule left in 1964, when he was two.
"No, it's not. I have thought of doing things like that in the shape of islands, but not this show," says Pule.
Oh well, interpretation is a strange thing. An inked lattice of crosses could reference Allan Maddox's paintings, but in Pule's hands it's more likely to be a nod to the repetitive patterning of tapa cloth or its Niue variant, hiapo.
"Keep talking because I've got to put a title on this last one," says Pule, grabbing his ink and fine brush again."I've got a book of titles. I spend a bit of time trying to figure out titles because they're very important. They've got to be full of poetry. You've got to entice people into the work so they can look at the title and compare it to the work."
Pule was a poet first, or it was in that context I first heard of him some time in the mid-1980s, this guy from Otara who was writing epic love poems full of lush imagery and self-publishing them.
He's also had a couple of novels published, brutal and beautiful pieces of Pacific magic realism. He talks of wanting to take a year off to finish the third, but poetry and poetic prose can't feed the family the way painting can.
Meanwhile he devours books, as piles stacked around the studio testify. He lists what's going into the show.
"I was reading Nicholas Thomas' Discoveries (a telling of Captain Cook's voyages by the Australian academic who collaborated with Pule on a book about hiapo) and Anne Salmond's Trial of the Cannibal Dog.
"I was also looking at William Hodges' paintings (the artist on Cook's second voyage) and Bernard Smith's European Visions of the South Pacific. I'm seeing how the Europeans depicted indigenous local people and tried to negotiate with them as if they were from another age, another world, which in a way they were.
"Then all these creatures and all this strangeness about them. I looked at the plant collections in the paintings and the way they created a very strange and beautiful world." Pule took from his researches the licence to add extraordinary details to his hiapo frameworks: birds, strange sea creatures, sharks, whales, plants and angels. Angels? Something to do with the missionary position, say Pule.
"There was a lot of f***ing going on. I use the angel as a metaphor for sexual desire." Of course, that mixture of exoticism and eroticism was what drew Paul Gauguin to the South Seas.
We look at some of his wave forms, white marks flecking the black oceans. "It's not Hokusai's wave. That's a great wave, but I wanted to give it sense of urgency, desire, violence, and I think I've achieved it. Also all these creatures, shipwrecks, and human emotions locked inside the waves along the coastline." Is there self-consciousness about being a Pacific artist, a Niuean artist?
"I live in it. I thought about it a long time ago. In the 80s there were three or four Niueans practising as artists. I don't know where they are now.
"In one sense the pathway was cleared for us by contemporary Maori artists. They created a space that made it easy for us but in another sense we have to deal with the whole issue of living in another country. We are a nation here and do our thing, thinking this is our country," Pule says, and then worries about how it sounds.
I sort of understand him, and let it ride as part of a wider conversation about nationalism and identity which is always evolving, and only a part of the reason people do things.
Gallery dealer John Gow arrives to pick up the paintings. "How dry are these?" "They're fine. Just be careful of this bit here," says Pule, pointing to his sailing ship.
The studio is always a moment of truth for a gallerist. They commit to an artist, get their name out there, and hope they will produce something that pays the gallery's rent and lighting bill and enhances its reputation. And surprises them.
What they can't do is tell the artist what to make. Pule has had a show at Gow Langsford every two years since 1995, so the relationship has been mutually beneficial, keeping both in the game.
We load the car, and Gow heads back into the city. I tell Pule I like some of the painterly aspects about his new work, which haven't been sacrificed for the storytelling. "It's always about storytelling, drawing things that mean something."