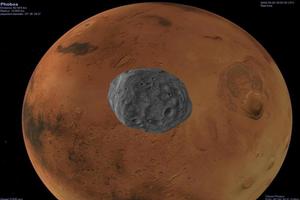 US Planetary Society Scientists have picked the first crew of Earthlings to fly to another planet.
Those chosen for a Mars mission to be launched in October include specimens of thale cress and brewer's yeast, and a microbe known as Conan the Bacterium.
Together with several other microscopic organisms, these representatives of earthly life will be carried in a package that will be flown on a Russian robot spacecraft and are scheduled to be returned to Earth in 2012.
The experiment - Living Interplanetary Flight Experiment, or Life - is designed to show if living organisms can survive unprotected in space for long periods and support the theory of panspermia, which argues that simple organisms can survive for years as they float through space and that life on Earth could have been wafted here from another world.
"Some scientists believe the solar system's first living organisms may have originally evolved on Mars and were then blasted to Earth on debris that was thrown into space when meteorites crashed on to Mars," said Dr Bruce Betts, of the United States Planetary Society, which has funded the US$1 million ($1.58 million) Life project.
"On Earth these simple microbe-like beings then started to evolve - ultimately into animals and humans. In other words, we may all be Martians under our skin."
The idea that simple life forms could survive unprotected in space is controversial but has been backed by recent discoveries of bacteria that thrive in boiling, acid springs, in nuclear reactors, in vents deep below the oceans and other extremely hostile environments. However, no one has tested bacteria's ability to survive for years in deep space.
In fact, the mission is not being aimed at Mars but at Phobos, the larger of the planet's two moons. Nevertheless, the organisms in the Life capsule will be Earth's first interplanetary travellers.
The Russian mission, called Phobus-Grunt (the Russian word for soil is grunt), will take 10 months to reach Mars and will then spend several more months in orbit round the planet before landing on Phobos.
It will collect a sample of its soil and blast back to Earth, along with the Life capsule.
These few scoops of material will become the first sample of extraterrestrial soil to be brought to Earth since the lunar missions of the 1970s.
The Phobos-Grunt mission will last for 34 months and will carry its samples of Earth's humbler life forms in a 7.5cm-diameter titanium case.
The Russian aerospace company NPO Lavochkin, which is building and launching Phobos-Grunt, has given a launch date in October, while acknowledging that this deadline will be tight.
The company has also insisted that the Life capsule will not break open in the event of Phobos-Grunt missing its target and plunging into Mars.
- OBSERVER