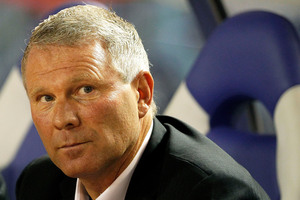 Ricki Herbert is almost certain to conclude as All Whites coach at the end of this campaign but there is a strong possibility he will remain in a role at New Zealand Football.
Despite Herbert's post-match indications that he may want to continue in the job at the end of his current contract, it seems unlikely.
Herbert has close ties with NZF chairman Frank van Hattum and retains a lot of influence within the game but it is believed NZF will seek a new direction.
However, the 52-year-old may be retained within NZF. As first revealed in the Herald on Sunday in July, in the wake of Grant McKavanagh's resignation as CEO, wheels were in motion for a 'musical chairs' scenario at NZF, with Herbert to move into the national high performance manager role and Fred de Jong stepping up to the top job.
That remains a possibility, as the organisation values Herbert's loyalty, experience and contacts all over the footballing world.
It would be a brave call. If NZF are genuine in their desire to evolve the sport at the highest level towards a more possession-based game, it is hard to see how Herbert would fit in.
At club and national level, Herbert has built his teams on solid defence, no-frills football and high work rate. If he was overseeing the direction of the sport and the overall approach of the other (senior, age group and women's) national teams, it would be hard to see how the game would progress in the desired direction.
"Ricki is more of a manager than a coach," said one former All White. "He has done well in building teams, establishing cultures and has had a reasonable amount of success. But I am not sure how suited he is to developing coaches and playing systems."
It could also create an issue for the new coach. Herbert has been one of the most powerful men in New Zealand football for the last few years and may find it hard to step away.
His comments after Thursday's match showed that he also has lingering feelings about how some quarters have portrayed the 2010 World Cup campaign. Asked why men like Ryan Nelsen and Simon Elliott were not brought into the fold, Herbert launched into a tirade over what he claims is a failure to receive due credit for that campaign.
"Trust me, there was only one person [who decided] to play a certain way at the World Cup and that was me," said Herbert. "Not any players, not any influence from players but an absolutely dedicated management group that filled that out to a dedicated group of players. I've yet to see that article being written. What does annoy [me] is [that] this management group has never had the full reflection of what was achieved at that World Cup. For whatever personal agenda, [they] want to write it completely differently. And one day I will share that with you."
It was extraordinary. Not just for what he said - but the fact that it came more than three years after the fact.
Some disquiet is understandable, as it must have been hard to stomach stories after the World Cup that players were having a heavy input into the team's coaching.
But Herbert also received plenty of credit and surely there comes a time when you move on and let go.
Look at Stephen Kearney. He brought Wayne Bennett into the Kiwis coaching ranks in 2008, despite realising that much of the (eventual) credit might go to the Australian super-coach. At the current World Cup, Ivan Cleary is the Kiwis assistant, with Kearney again happy to share the workload and the possible future plaudits.
Herbert's stance has been costly for him and the team. He has always maintained a tight inner circle during his time with the All Whites and even at the Phoenix, where there was limited involvement with the ASB Premiership teams and coaches. That has been detrimental to the cause because it hasn't made the most of the football resources, brains and know-how in this country.