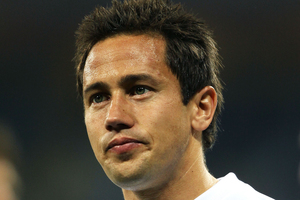 Former All White and well-travelled professional Jeremy Christie has returned to New Zealand and reverted to amateur ranks to restart his stalled football career.
Three years after playing for the All Whites at the 2010 World Cup, Christie largely fell off the radar through injury, but is now chasing another major football dream in the form of the World Club Championship with ASB Premiership champions Waitakere United.
The 29-year-old will take the field for Waitakere in their O-League Super City derby against Auckland City on Sunday (3pm, Fred Taylor Park) and the combative midfielder could well hold the key to his team securing a spot in the lucrative club tournament in Morocco.
Christie, who has played professionally for Barnsley, Football Kingz, NZ Knights, Perth Glory and Wellington Phoenix, returned to New Zealand after a whirlwind three years littered with steep peaks, deep troughs and ritzy first class downtime.
In 2010 Christie was in the prime of his career, playing for the All Whites on football's biggest stage against the defending world champions.
But after coming off the bench in New Zealand's 1-1 draws against Italy and Slovakia at the World Cup, his career took a turn for the worse. While playing for FC Tampa Bay in the North American Soccer League, he required surgery on a hip injury, and it kept him out of action for a year.
"When I came back from that I was looking for opportunities and it was tough, especially after being out for a year, no one wanted to take too much of a chance," he said.
Christie headed for the UK, where he thought his British passport and extensive professional CV could help land a contract with an English side.
"I was training with a few clubs and played a few reserve games, but it's tough over there. I didn't quite realize how many players are floating around without a club, and at 29 I'm actually kind of old. Especially after not playing for a year it made it difficult."
Christie struggled to make an impression on the training ground, but was lucky enough to share digs with fellow All White Winston Reid for three months in London.
"Winston and I are very close and it was great to see how the other half lives. I went to a few games that he sorted tickets for and it was so great see him walking out against Manchester United, Chelsea, Man City and Liverpool. It was pretty awesome.
"He's doing things right over there and the way he has looked after himself, he deserves everything that he's getting at the moment."
Christie met Reid for the first time in South Africa, and they instantly developed a strong bond, and have kept in touch ever since.
"If he had a girlfriend or a wife I would only have been there for a couple of weeks and left. But he gets kind of lonely I think, so it was good to hang out and keep him company. It's kind of crazy in London.
"It was good for me as well, because even though I'm a few years older than him, I actually learned a lot from him and how he handles himself off the field. It made a big impression on me there.
"Winston would get recognized in public not just because he is a good player, but he was also 6'3 with a Mohican style haircut, which was pretty out of control. He would always get stopped for pictures."
Christie soon realised his best shot at getting regular game time at a good level was back in New Zealand and he contacted his former club Waitakere - who he last played for after being released by the Phoenix in 2009 - and they welcomed him with open arms.
"I don't want to be here too long, because I still have ambitions of playing professionally, but the fact that it's a six week tournament and the carrot of potentially playing at the Club World Cup appealed to me. The main thing for me was getting back on the field and playing."
Christie is under no illusions about what is required to make it back into Ricki Herbert's thinking for the World Cup next year in Brazil.
"Playing for Waitakere, I don't expect to get back into the national team, due to the quality in the squad right now. You'd probably need to be playing at a professional level somewhere for that to happen."
Nevertheless a strong O-League campaign for Waitakere could be the first step in getting his career back on track.
"Super City derbies are always heated affairs and I played in a few when I was younger and used to hare around kicking people. But I think I'll be a bit more cultured this time."
Waitakere will be desperate for the win on Sunday after only managing 0-0 draw in their opening game against Tahitian side AS Dragon, while Auckland scored a 2-0 win over AS Monte Dore.
Christie didn't feature in Waitakere's game last week because his international clearance hadn't come through, but he is confident it will be sorted by this weekend.
With a $500,000 purse up for grabs just for making the Club World Cup, Sunday's game shapes as one of the biggest of the season.
"Ramon has got them (Auckland City) playing good football by all accounts. They keep the ball really well and have strong leadership with Ivan (Vicelich) there who is a New Zealand legend. I'm certainly looking forward to it."