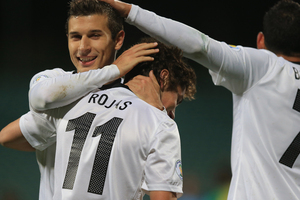 Life is pretty good for All Whites forward Kosta Barbarouses.
He is on loan to Greek club Panathinaikos from his Russian club Alania Vladikarkaz until the end of the season.
It suits him. Being of Greek heritage, he has settled quickly and feels comfortable at the Athens-based club.
Ideally, he would be getting more than the ''10, 20 minutes here and there'' he has to make do with from the bench.
It is not the best preparation for the All Whites' World Cup qualifier against New Caledonia at Forsyth Barr Stadium tonight.
But for the former Wellington Phoenix player, life in Athens is not full of the kind of chaos we see on the six o'clock news. The Greek economic crisis has been harder on some than others, he suggested.
''To be honest, you don't really see it day to day, what is going on,'' Barbarouses said.
''You still go down to the local cafe for a cup of tea or whatever and it is still full, so you don't really see it.
But then on the way to training, there are a few rough areas and you get to drive through that and experience that.''
Barbarouses (23) played for the Phoenix for three seasons and had one season with the Brisbane Roar. He was one of the best players in the A-League but does not regret moving on.
He knew when he agreed to sign with Alania Vladikarkaz two years ago, he would be just one of many talented players scrambling for game time.
''I knew going to Europe I was just going to be another player to start off with. There are so many players there and the coach always has so many options to choose from. Any Kiwi or Aussie that goes over there has to fight for their position, just like everybody else.''
The shift to Panathinaikos suits him and ideally he would like to remain with the club. Ultimately, though, it is not just his decision. He has a year to run on his contract with his Russian club and it may or may not require his services next season.
In the meantime, he feels in good nick, despite limited game time with Panathinaikos.
''Training is quite a high standard, which is good. Everyone is on their toes a lot and I feel pretty sharp. I trained [Wednesday] and felt pretty good, so I think my match fitness is still quite good.''
He is enjoying being back in the All Whites camp.
''We are all here for one goal and that is to reach the World Cup. They'll [New Caledonia] be pretty high on confidence. Since we beat them 2-0 they have gone and won every other game, so it is probably the two in-form teams.
''We're at home, so we obviously feel like we have something to go and prove again. Our last game at home wasn't the best but we still came away with a win against Tahiti. But we feel like we can improve on that.''
If the All Whites win, they will qualify for the home-and-away playoff in November against the fourth-placed team from the North and Central American region.