As New Zealand take another step towards the 2014 World Cup, we travel to London to meet up with a hero of the previous campaign, newly installed All Whites captain Winston Reid.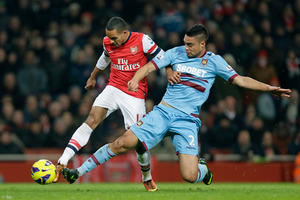 Sitting alone in his apartment in Canary Wharf, a glittering block of towers on the edge of the River Thames, Winston Reid felt a huge weight had been lifted.
West Ham United had just defeated Blackpool with a late goal to secure promotion back to the Premier League last May.
"We were playing at Wembley and there were 90,000 people there. We were under a lot of pressure to go back up [to the Premier League] straight away," says Reid.
"So to win meant a lot to the fans, the club and myself. Sitting back at my place, all I felt was relief. That was my biggest moment."
The 2-1 win represented redemption of sorts for the young defender, who had experienced a tumultuous time since signing with the east London club after his star turn for the All Whites at the 2010 World Cup.
He's now an established player in top-flight English football, but it wasn't always so.
West Ham United management told supporters the club had signed an international player who had scored at the global tournament and the rumour mill unfairly went wild over potential superstars coming to Upton Park.
His debut in a 0-3 loss to Aston Villa further disappointed fans, as he was cruelly exposed by being selected at right-back - a position he had never played before.
Reid, now 24, would not start another match for six months and made only a handful of appearances in the following year.
The disastrous season led to relegation for the Hammers and led Reid, with his confidence knocked badly, to question his future at the club.
"Everyone wants to do well when they move to a new club, everyone wants to do their best. But for some reason, things don't always work out. We had a bad run of luck, we weren't performing as a team - and myself as well - and so we got relegated.
"In the last month of the season I just wanted to go on holiday just to get away from it all."
He contemplated leaving West Ham, but relegation saw a new manager put in charge to lead them back to the Premier League.
Sam Allardyce, a defender in his playing days, put his faith in Reid and he soon became one of the first names on the team sheet.
The fans also came to realise he could play and he earned cult hero status by scoring a "scorching volley" in a victory over arch-rivals Milwall.
Regular playing time under Allardyce made all the difference, he says.
"After a year of only playing seven or eight games, your confidence takes a hit. When footballers - or any professional sportsperson - go through a sticky patch of results it's all down to confidence.
"You've got to get your confidence back and just keep working hard. Your career is not always going to go up, it's going to be up and down. And when you have periods that are not so good, you have to make sure it doesn't last for very long."
Reid has flourished with West Ham's promotion. He has become the heart of the team's defence, with many fans and Allardyce nominating him as the club's best player. He has even captained the side on a few occasions.
The side are mid-table and Reid has recently signed a two-year extension with the Hammers, taking him to the end of the 2014-15 season.
Nearly three years after moving to London, it's also clear Reid feels at home after taking some time to settle in.
"You've got to move to a new country, away from your family and friends, live on your own, learn to have new teammates.
"You have to leave your comfort zone and that's not always easy.
"But London is an amazing city and I'm really enjoying it. You're never bored; there's musical shows, shopping, big events, restaurants. It's one of the big cities in the world and literally has pretty much everything you want. Except for sunshine."
He lives in Canary Wharf, where fellow Kiwi Ryan Nelsen was based when he played for Tottenham.
The two flag-bearers for New Zealand football in the Premier League would often catch up, either for dinner, on the long flight home to play for the All Whites or on the pitch.
"I played against him a couple of times this year and he gave me a couple of elbows," Reid laughs.
But Nelsen has now retired from all football to coach in Canada, leaving a gaping hole in the All Whites and Reid as the only New Zealander in the Premier League. Not surprisingly, Reid has been handed Nelsen's captain's armband.
Reid is fully aware of his wider responsibility to the game back home.
"It will be interesting without 'Nelly'. Obviously he meant a lot to New Zealand football and he's done well," Reid said.
"People should be thankful for what he's done but I think people should realise that we need to move forward as well and try to do our best without him."
Reid jumped on a plane to Dunedin straight after West Ham's 0-2 defeat to Chelsea to help the All Whites prepare for the next match against New Caledonia.
He still gets a kick out of playing for his country and enjoys the company "of a great bunch of guys who have a lot of fun together".
"It's the country I always wanted to play for and I want to inspire kids to do the same. When I was growing up, we had Wynton [Rufer] as a role model but apart from that there wasn't anyone.
"Rugby is always going to be number one in New Zealand. Then cricket and league after that. So for football, it demands results to get noticed. So that's what we have to do."
Winston Reid
* Holds dual citizenship from New Zealand and Denmark after his mother married a Dane and the family moved there.
* Came to fame with last-minute goal for New Zealand to draw 1-1 with Slovakia in 2010 World Cup.
* Centre half signed by West Ham United and struggled as the club was relegated.
* Revitalised under new manager Sam Allardyce and helped the club be promoted back to top-flight English soccer.
* Scored first Premier League goal in 3-0 victory over Fulham in September. Also captained the side on occasion and signed two-year contract extension.
* Only New Zealander playing in the Premier League and now widely considered the Hammers' best player.