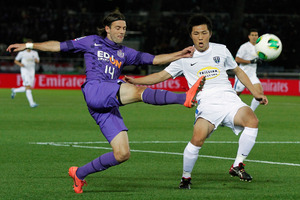 He didn't get the fairytale finish but Auckland City defender Takuya Iwata provided one of the stories of the week at the Fifa Club World Cup.
As the only Japanese player in the New Zealand side, he was swamped by legions of local media all week.
He also virtually exhausted Auckland City's entire ticket allocation on his own, with over 350 family, friends and ex-team-mates coming from all over Japan to watch him play last Thursday night.
Many had travelled from his home city of Gifu (two hours by bullet train from Yokohama) but some had come from as far as Hokkaido in northern Japan (over 1000km away) and a few flew in from Australia and New Zealand. They occupied a small pocket of the vast stadium, constantly cheering whenever Iwata was near the ball and provided a regular "Auckland-doh, Auckland-doh" chant in defiant opposition to the masses of Hiroshima supporters.
"It seemed unreal, just like a dream," said Iwata. "To be back here in Japan playing in a Fifa Club World Cup is something I could never have imagined."
Iwata grew up playing for his hometown club, Japanese second division side FC Gifu. He cut no corners, training up to six days a week for two to three hours a day, and he would often supplement that with an extra hour or two on specific skills. He was a regular member of the squad for five years but failed to crack the first team and in 2010 decided to look elsewhere.
His Auckland City adventure started in April this year. He had been playing in Queensland for the Far North Queensland Bulls but when his visa expired, he came to New Zealand.
A quick website search found Auckland City and he wandered down to Kiwitea Street the following Sunday, which happened to be the first leg of the the O-League final. After the match, which the home side won 2-1, he approached coach Ramon Tribulietx.
"I went up to talk to Ramon but he didn't really want to talk to me," said Iwata. "He seemed really busy and anyway, I couldn't really understand what he was saying."
"After the game, I had this guy wander up to me saying he wanted to play for Auckland City," remembers Tribulietx. "It's an unusual situation to be in at the end of such a big game. I had a lot of things on my mind. I told him the season was basically over and he should go and talk to [Auckland City feeder club] Central United."
He did and was told that Central's third team might have a spot available that weekend. At the far from exotic setting of the No7 field at Keith Hay Park, Iwata came on in the second half of a 2-1 win over Three Kings United.
Positive feedback ensured he was quickly promoted to the reserves and within a few weeks, he found himself training with Chris Zoricich's first team squad. At this stage, Auckland City had been confirmed as O-League champions, securing a shot at the Fifa Club World Cup.
"When I heard they were going to Japan, that became my biggest goal," says Iwata. "It was all I could think about."
He became a regular member of the Central United team and featured in the Chatham Cup final as the Auckland side, celebrating their 50th jubilee, beat Lower Hutt City 6-1.
After a few weeks of trials with Auckland City, he was given a spot and soon made the left fullback position his own.
"It was fortunate because Ian Hogg had left [for Portland Timbers] and we needed someone on the left," says captain Ivan Vicelich. "Taku came in and has done well."
Iwata is a natural attacker but struggled to get forward on Thursday, pinned back by the relentless advances of the Hiroshima side.
He was marking Hiroshima's Croatian winger Mihael Mikic, who was the best player on the night.
Tomorrow, Iwata returns to his day job in Auckland, delivering supplies to Japanese restaurants around the city.
"It's pretty good," says Iwata. "I don't have to think too much and it is quite physical, which is probably good training for me."