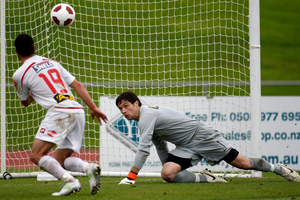 Auckland City kept a long unbeaten run intact and were given the testing workout they wanted before heading to Japan for Fifa's Club World Cup, but the 1-1 draw against Waitakere United should have been a vastly different story.
On chances created, United should have cruised to 4-1 by the break, but failure to put gilt-edged opportunities away handed the visitors a lifeline they gratefully accepted and left Fred Taylor Park with a point.
The draw allowed City to further stretch an unbeaten run in ASB Premiership regular season games back to round 10 in the 2009-10 season.
A week earlier City coach Ramon Tribulietx despaired at the number of chances his team failed to convert. Waitakere coach Paul Marshall was in the same mind yesterday.
From the time Roy Krishna, on 28secs, beat the offside trap and fired wide less than a minute later when Chad Coombes was wide from long range, there was the feeling it was going to be another day of near misses.
David Mulligan, like Coombes, up against his old team, had two even better chances but squandered both.
It was left to inspirational captain Jake Butler to smash home from 25m to give the home side their 23rd minute lead. Another bout of missed chances followed before Waitakere's ineptness in front of goal was handed a further blow when Luis Corrales and Manel Exposito combined well before Corrales drove home hard and low for 1-1 in the 41st minute.
The best second half chances fell to Waitakere's Ryan de Vries, who could have capped a solid day's work with the match winner, and substitute Manko Maxim who blasted his far post effort from a Mulligan corner into oblivion.
"It was a good workout," said Tribulietx. "It was a tough game and was good preparation for what we can expect in Japan in 10 days. We were without some key players - we didn't want to risk Chris Bale, Angel Berlanga and James Pritchett before we go away - which was a good opportunity to give some other players game time. Overall, we are happy with a point."
Marshall was disappointed only in the result.