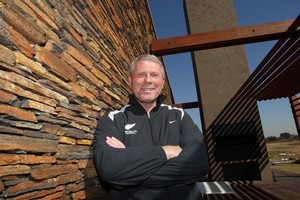 After Wednesday's much-needed win over Melbourne Heart, the Phoenix coach spoke with Herald writer Terry Maddaford.
How big was this win?
In context of the season, great. Three much-needed points. I think there will be a spring back in the step of the players. But if they are the last points we get this season it will mean nothing.
Are you feeling the heat?
There is always pressure. That's the industry you are in. I'm happy to take and listen to any informed criticism but there are a few people in and around the game I don't listen to. It is my opinion. At the end of the day I have a contract for the rest of this season and two after that.
Last season was your best. What has gone wrong this year?
It was not until we won on New Year's Eve we really ignited our season and went on from there. We were determined to carry on with that good work and went out and recruited different players. We now question whether that was the right thing to do.
But maybe we will again mount a late run.
Is Ricki Herbert hard-nosed enough in these troubled times?
It is always about opinions. I have one which I'm entitled to. Of course I'm looking for solutions but in the end, the team on Wednesday bore a strong resemblance to the team I was putting out last year.
Where does the buck stop?
At the club and more particularly the coach. There is no other way to look at it. I have no issues with that whatsoever.
In light of results in recent weeks, what could you have done differently?
It is to go back. Last season we had an excellent team. We had 32,000 for a home game and went to the preliminary final. We added some players. Some delivered, some did not. But if you look at the wider picture there has never been consistency in this league. Teams have gone from top to bottom and vice-versa. Maybe we are no different.
Have off-season signings Dylan McAllister and Jade North lived up to expectations?
That's a hard one. Dylan did not play a lot of football for Central Coast last season and it shows. He gives us something different when he plays. Jade is another who didn't play a lot when he was overseas. He has taken time to settle. It has been a patchy season for him.
Why was Kosta Barbarouses let go?
He was offered an extension but didn't take it. His switch [to Brisbane] has helped him mature. Not having a second team didn't help him. He wanted to play more. That's understandable.
Why don't the Phoenix have a marquee player?
Never had one. It remains a consideration but I'm not sure the ones who have been brought in have justified the $500,000 or more they have been paid. You have to question whether they are going to put more bums on seats.
Why such a big difference in your home and away records?
Difficult to answer. But last season Perth, North Queensland and the Phoenix had the worst away records. They also did the most travelling. People are kidding themselves if they don't accept the difficulties constant travelling brings. We have international travel virtually every second week. That is not easy. Even the Heart officials admitted that and they have only one or two such trips every season.
Why such a poor record from set play?
Good point, especially when a third of goals are scored from set play. It's not that we don't practice. You have to question the delivery and the execution.
How frustrating was it to have Tim Brown suspended so early in the season?
Tim has been exceptionally good for the club. I could not believe the criticism aimed at him. Every team needs a Tim Brown. He wears his heart on his sleeve but always gives 100 per cent. Perhaps some of the bookings, like kicking the ball away, are inexcusable, but he gives his all. Ben Sigmund is the same.
Do you or your players have concerns about being paid?
I think that has gone. There is some comfort around that.

Have your payments ever been late?
No.
Describe your relationship with owner Terry Serepisos.
Very, very good. I did not know Terry before I came to Wellington. We have grown that relationship. We are very close.
And the new chief executive?
The acting CEO [Nathan Greenham]. It is a difficult position to come in to. Tony [former boss Tony Pignata] did a great job. I think there is a well-rounded feeling in the club.

Why was Aaron Clapham good enough for the All Whites but not the Phoenix?
We didn't have a place on the roster for him and he was too old to be part of the younger bracket.
Are any ASB Premiership players under consideration for the Phoenix?
I have seen a couple of games this year and will continue to watch when I can. The local competition is a good one but, no, we haven't earmarked any players.
Are Paul Ifill and Chris Greenacre close to their use by date?
No. Paul has two more years at the club. I thought he was clearly at his best on Wednesday. Chris has another year after this. He is an incredible player. The ultimate professional. I'm sure he still has more to offer.
How could the club afford to lose players like Shane Smeltz, Jon McKain and Glen Moss?
The hardest aspect was the financial side with a salary cap of $2.3 million.
Who's the A-League's best player?
Thomas Broich at Brisbane.
What would you be doing if you weren't coaching football teams?
Not really sure. It's been my life. I also have my own academy all around the country which takes some of my time.
How do you relax?
I'm probably not away from football a lot. We try to do as much as we can as a family. I like golf but I haven't played a lot lately. As you know, I also like the horses and take the opportunity to watch the races on TV when I can.
Where is your favourite holiday destination?
Papamoa. Love it. I also like camping when I have the chance.