Matt Stevens is a director of Wellington-based craft brewery ParrotDog.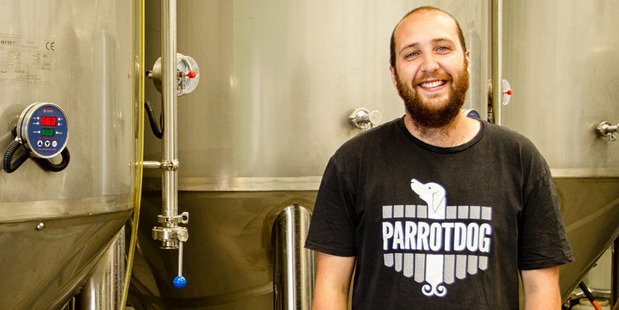 When and why did you go into the Australian market?

We started exporting ParrotDog's regular range of beers to Australia at the beginning of 2013 and have since expanded our offering to include seasonal beers and kegs.

There are a lot of Australians who are really getting into their craft beer and a significant number of venues serving it to the public. It's an exciting market with a growing beer scene and culture - we wanted to be part of it.
What's the current state of your business there?

We're still in the infant stages of entering the Australian market with the proportion of our revenue coming from there at just under 10 per cent. Until recently our growth in Australia has been hampered by our production capacity and ensuring that we don't run out of supply in our local markets of Wellington and wider New Zealand.

However, we recently purchased some new tanks and have gained more production capacity so we can begin giving more attention to the Australian market and sending more product over, while keeping all our local retailers and customers happy.
Our key markets and customers are specialty beer outlets as the cost of our product is usually too high for bigger retailers by the time the beer reaches Australia.

What are some of your war stories?

Our biggest difficulty in Australia is our price point. Due to our size, lack of production 'economies of scale' and use of many expensive high quality ingredients, our beers are not the cheapest to begin with when compared with those produced by some bigger players in the industry.

Add to that the cost of freighting a bulky and heavy product across the Tasman, the high New Zealand dollar and the high Australian excise rates, and we end up with a very expensive product. The retail price point can be a little daunting, however we have found that the nature of the Australian market is if the product is of the right quality, people will pay for it.
What has worked well for you in terms of gaining traction in the market?

What has worked well to date is the great appreciation for our awesome New Zealand hops. Our beers are very hop forward and our regular range showcases a number of New Zealand varieties that Australians appear to really enjoy.

The other aspect that has worked well for ParrotDog is a few of our mates in the craft beer industry who have been exporting over there for a lot longer than us have built a really good reputation and an appreciation for New Zealand craft beer. These are brands like Yeastie Boys, 8-Wired, Epic and more.

What resources or sources of support have you tapped into to help you on the journey so far?

New Zealand Trade and Enterprise have provided us with heaps of helpful resources and they often host seminars for craft breweries looking to export to Australia. We've also had some support from Grow Wellington, which has assisted us to exhibit at events like the Great Australian Beer SpecTAPular.

What key piece of advice do you have for other small business owners looking to go into Australia?

Just get over there. Every time we visit Australia we learn so much about the beer culture, the brewing scene, the regulatory environment and how the growth in good beer in Australia is tracking. Due to the demands of ParrotDog's brewing operation we don't make it over nearly as much as we wish we could, however each trip is incredibly valuable. We have so much to learn and hopefully as our team grows back home a few more of us can get over there a lot more often. There is, after all, a lot of good beer being drunk in Aussie.
Coming up in Small Business: Wearable technology is one of the hottest sectors in high-tech. What are some of the cool companies operating in this space in New Zealand? If you've got a story to share, drop me a note: nzhsmallbusiness@gmail.com