Sponsored posts, links and ads earn money as bloggers talk to their public.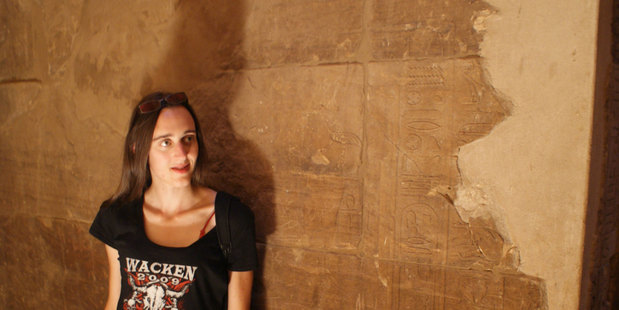 Food and cooking, as anyone who glances at TV knows, is hot and Zoe Salmen blogs about the subject on the website of her online store Little & Loved.
She says social media allows her to reach her following on a low budget.
"I try to keep consistently busy on my Facebook and Instagram pages and often only promote my blog on these, as they can be really effective."
Blogging is huge in markets like the US and UK, says Salmen, and its a phenomenon Kiwis are now just starting to get.
"That is really exciting for someone like me. I plan to be consistent with regular posts, growing in both my writing and photography skills and making more contacts."
Leonie Barlow had a successful career in magazines spanning 20 years before setting up her own business, fashion and lifestyle blog The Style Insider, in 2012.
Barlow is a fulltime blogger and while her earnings havent yet overtaken what she earned as a magazine editor, she says its definitely getting pretty close.
But how do you make money as a blogger in New Zealand?
"Most of the revenue I earn from my blog is via sponsored posts, affiliate links and banner ads. Speaking and presenting opportunities have also come her way."
Steff Green says she comes from the write it and they will come school of blogging.
The self-proclaimed heavy-metal maiden has built an international audience for her Steff Metal heavy-metal lifestyle blog by simply writing about stuff that interests me, she says.
Green makes it sound simple, but she clearly lives and breathes the heavy metal lifestyle communicating with an authentic voice that is essential for success in the blogging world.
Green, a writer by trade, cites a number of ways her blogging activities generate revenue: people who read her articles might hire her to write for them, or buy one of the books shes published. She is also approached about advertising or sponsorship opportunities.
Creating a following in the blogging world can certainly lead to a diversity of opportunities.
Eleanor Ozich founded food blog Petite Kitchen in 2012 to document her familys journey after eliminating grain, sugar, additives and preservatives from their diet. Shes since gone on to write for a number of publications, release a cookbook and, alongside a business partner, open a cafe.
"My blog has been the foundation for my career. Its opened many doors for me, which I believe would not have been possible through traditional ways of networking, she says. Through my blog, I am able to write about all of these exciting projects to make my readers feel like they are part of my journey."
"It is a fantastic avenue to keep my readers in the loop and glue all my ventures together.
Ozich has also built an impressive Facebook following (Petite Kitchen has more than 27,000 likes), and other small business bloggers say that social media has been an important channel for building their audiences.
------------------------------------------------------------------------
Steff Green is the founder of heavy metal lifestyle blog Steff Metal
Why and how did you first get into blogging?
In 2008 I was planning my wedding and reading a lot of wedding blogs to get ideas. I had so many ideas that I had hundreds left over. So I thought itd be cool to start a wedding blog for other couples planning dark, alternative weddings.
Six months into that, I got completely bored. But I knew I wanted to keep blogging and that I wanted my blog to be a kind of magazine covering lots of different topics for the alternative crowd. The name Steff Metal popped into my head and I bought the domain name and started on a free Wordpress site with a template Id tweaked myself. I taught myself html, image editing, everything I needed to know.
Six months later I'd gone from two readers to 10,000, and decided it was time I got serious. So I asked my readers if they could recommend a designer and the amazing V contacted me and said she'd love to design my site.
I've now got more than 600 posts and I've also blogged for a huge range of other sites.
Can you tell me a bit about your working life and the role blogging plays in that?
I run three sites. My main site is www.steffmetal.com, which is a blog about heavy metal music and lifestyle. I wanted to write a blog that was a bit like Cosmopolitan with fashion, reviews, feature articles, travel pieces and so on but about metal music and subculture.
My focus now is using my blog to generate interest in my books. In 2013 I released a short story collection of humorous horror stories and in March I released my first novel, At War With Satan.
My other site www.gothicweddingplanner.com has a blog about my adventures as an alternative wedding celebrant. Since 2011 I've been performing weird and wonderful wedding ceremonies throughout New Zealand, and I'm working with a local publisher on releasing a coffee table book of inspiration for gothic weddings.
My third site is www.theasockalypse.com, which I run with a friend and business partner, Andrea Dick. We bring weird and awesome socks to the feet of the world. I write the blog and do the marketing for that site, too.
I'm a writer by trade, so my blog is basically my billboard. It says to the world Here I am, here's what Im about, here's why I'm awesome hire me! Ive been freelancing for years and I recently landed an awesome part-time job working as a marketing copywriter for WorkflowMax I write its blog at www.blog.workflowmax.com because of connections I made and skills I learned through blogging.
How does your blogging make money?
First, people read my articles and hire me to write for them or to officiate at their alternative weddings. Second, readers who enjoy my writing might buy a copy of one of my books, and third, companies approach me about advertising, sponsorship and other opportunities.
Youre a self-proclaimed heavy metal maiden. How have you built an audience in that niche?
I don't really know. I think I subscribe to the "if you write it, they will come" school of blogging. I just write about stuff that interests me and somehow people find it.
When I started out, I put a link on Facebook and showed my friends and I did a few guest posts on some other metal blogs that were getting big at the time, so they sent a lot of traffic my way and some of those people hung around.
I don't have a lot of money to spend on advertising but I know the market really well, so I know what people are Googling and what might get them to land on my site.
For example, I'm working on a giant post called "101 of the best metal albums of all time". When its finished it might be 10,000 words long, but it will attract a huge amount of interest and debate.
Tips for other small business bloggers?
Find a niche. The people who get it and love whatever it is you,re writing about will be your fans for life. Write about what you love first and then find a way to make money from it.