Andy Mitchell and Friday O'Flaherty are the co-founders of Running with Scissors, an innovation and advertising agency with 12 staff and offices in Auckland and London.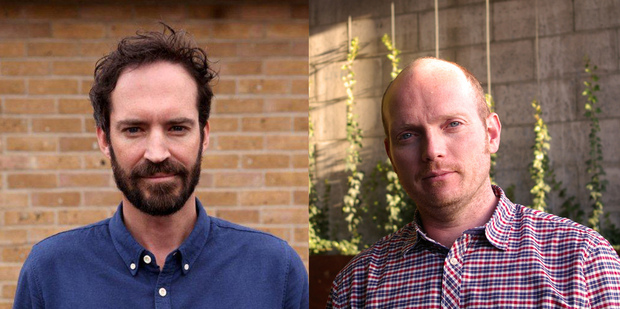 How and why did you go into business together?
Andy Mitchell: We met working inside a global advertising agency here in New Zealand where we had both been recruited specifically to accelerate the growth of a particular business unit. It didn't take long to discover that we shared a passion for ideas that could disrupt habitual thinking.
Friday O'Flaherty: We were both very interested in the use of creative thinking in strategy and being open to ideas that weren't necessarily advertising-led. But to deliver this kind of service we needed to create a fundamentally different business model. We decided to back ourselves and see if it would work in practice. We launched at the height of the global financial crisis in 2008 and have been riding the wave of business transformation ever since.
How do you split certain duties within the business?
Mitchell: Our partnership is particularly complex because our desks are 20,000km apart. Friday has been working in Shoreditch, in East London, for the past year, getting our new office established there. Because of that distance we don't have those opportunities to communicate spontaneously; we have to plan even our informal discussions and get everything in the diary.

We split our duties based on our particular talents and strengths. There is little point slaving away for hours when your partner can crack it in minutes. This works particularly well for us as our natural skills are complementary. Friday used to be an air-traffic controller and has an amazing talent for staying focussed and managing complex projects. He's fantastic with detail and is the best client manager in this space I've seen. I'm the complete opposite. I'm about simplifying things at the big-picture level. My focus is now more commercial, whereas Friday's is more creative.

What factors make your partnership work?
Mitchell: In a word, structure. We make time to talk informally and catch up on the sentiment behind our actions. Then we formally report once a month with written detail so we can hold each other clearly to account and ensure we're both doing the right thing at the right time.
We also find it useful for us both to have two distinct purposes in the business. We separate our role as owners/directors from the role of business leaders. It helps us look at the same situation in two different ways and make more robust decisions. It's an idea that was introduced to us by Craig Steel, of the Steel Institute of Performance, and at first I wondered how we could really do that. But with practice you can change the lens through which you look at your business and it's been hugely helpful.
What have been some of the challenges of working together?
Mitchell: For me, the most challenging times have been when we've prioritised the everyday time pressure of business over our time to talk. Because we know each other so well, we start making assumptions about what the other person wants - and we all know what happens when you assume stuff.
O'Flaherty: Andy's accent sometimes makes me think I'm in a Bond film and I might be the villain. This can be distracting. Otherwise, I agree with Andy. It's easy to get caught up in what you as an individual have to deliver but we're better when we're working together.
What advice would you have for others looking to work together in partnership?
Mitchell: Embrace it wholeheartedly and just jump in and do it. Two minds are so much more powerful than one.
O'Flaherty: Speak to other business owners, it doesn't matter the industry, and find out what mistakes they made. This way you can avoid making the mistakes that everyone makes and hurry up and make some that are your very own. This way your business can be better faster.


Coming up in Small Business: The end of the financial year is drawing near. It's often a time when small business owners are busy looking back to get their affairs in order, but do you also use it as an opportunity to look forward and set some goals for the year ahead? If you've got an end-of-financial-year story to share, drop me a note at: nzhsmallbusiness@gmail.com.