Cubicle by furniture designer and nanofibre firm helps to bring peace to noisy offices.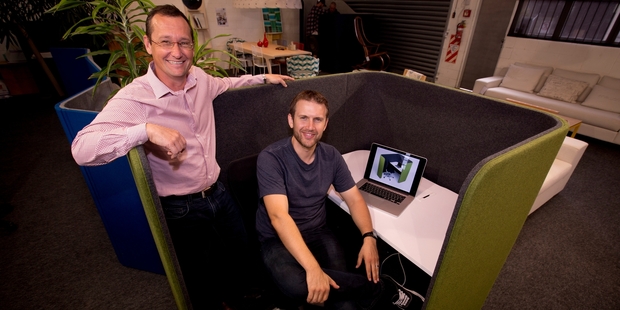 Noisy colleagues yelling into their phones, the incessant tapping of computer keyboards and vigorous discussions about the weekend's big sporting match - such are the distractions of the modern office.
But a New Zealand company reckons it has come up with the answer for frustrated workers trying to focus on the task at hand.
Enter the Return Focus Pod, an office cubicle made of sound-absorbing nanofibre.
It's the result of a collaboration between furniture design firm IQ Commercial and Henderson-based nanofibre specialists Revolution Fibres, which were brought together by Callaghan Innovation, the Government's high-tech business body.
IQ was established to develop products aimed at improving workplace productivity and is a wholly owned subsidiary of Finewood, an Auckland-based furniture manufacturer established in the 1970s.
Finewood and IQ managing director Blair McKolskey said hundreds of the pods, which sell for several thousand dollars, were in use in offices in Australasia, China, Hong Kong, Singapore and Malaysia.
Users of the technology include Google, Citibank and at least two large New Zealand banks.
McKolskey said while the trend towards open plan offices was positive, there were drawbacks.
"The theory behind it is right but a lot of people aren't happy with it," he said. "You don't want to overhear your colleagues' problems."
McKolskey said the pod provided a place of escape for workers needing to focus on important tasks.
"There would typically be one pod shared among four or six, maybe even eight people."
McKolskey said the nanofibre was constructed using thousands of individual layers of fibre.
"You are forcing sound to travel through thousands of layers," he said, adding that the fibre could be adjusted to target a specific range of frequencies common to office noise.
IQ, whose design team is lead by Chris Metcalfe, is working with a United States-based distributor to sell pods through the Asia-Pacific region and the company says the distribution partnership has resulted in strong sales growth.
The pod represents a kind of reversal of fortunes for New Zealand's furniture industry, which has been hit hard by competition from Asian imports in recent years and has shed about 2000 jobs since the onset of the global financial crisis.
McKolskey said exporting run-of-the-mill furniture to Asia without any unique innovation would be difficult.
"You really need that point of difference," he said. "There are a number of products that we're now making with our design team that are destined for the offshore market."
Nanofibre - what is it?
• A nanofibre is a fibre with a diameter smaller than 100 nanometres (a nanometre is equal to one billionth of a metre).
• They are created through a process called electrospinning.
• Auckland's Revolution Fibres uses a machine called "The Komodo" to zap a liquid solution with around 50,000 volts of electricity, producing nanofibres about 1000 times thinner than a human hair.