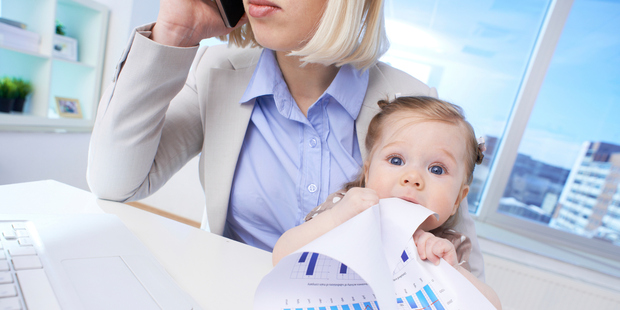 Having children is a life-changing experience for most. Tackling the challenges of parenthood leads us on a journey to figure out a whole new bunch of stuff: how to change nappies without unmentionables going everywhere, succeed in getting more food into a baby's mouth than on their clothes or soothe an overtired little one to sleep.
Those challenges, it seems, are fertile ground for entrepreneurial types. This week I've focused on businesses that were inspired by their founders' experiences as parents. They're often called 'mumpreneurs', although given there are a fair few dads in their ranks (including one who shares his story in Small Business this week) I've called them 'parent entrepreneurs'.
Diane Hurford is one such business owner. She founded her bed-wetting solutions firm, Brolly Sheets, after getting sick of banging her head on the top bunk while stripping the lower bunk in the middle of the night while her daughter was night time toilet training.
Her Brolly Sheet invention meant she no longer had to strip the entire bed, and in solving her problem she saw the opportunity to solve it for others - and a business was born.
It's a startup heavy sector, but it's not always an easy path to tread, say a number who share their stories this week. Sandy Hayer, for example, set up her business, Tummy Mummy NZ, in mid-2012, just two weeks before her youngest daughter was born and says finding time to spend on the venture while being a home-based mum to two young children is the biggest challenge.
Brian Ruthie of Clevabib, who designed and patented a bib that helps keep mess off laps as well as fronts, says the time, effort and money required to set up his venture has been massive. Ruthie works a full time day job, and works on his business mainly after his three kids have gone to bed.
But the rewards, either anticipated or realised, can also be great for family life. Ruthie's goals include becoming a work-from-home dad, able to spend quality time with his family, within the next five years.
Bianca Richardson, who set up Houdini in 2008 after inventing a device to prevent her young daughter escaping out of her car seat, reckons the business has allowed her to achieve a "beautiful, balanced lifestyle", where she works 16 to 20 hours a week and has the flexibility to attend her children's sports and school events.
And it seems, especially as they get older, the kids themselves can be keen to get involved in the family business. Joanne Edwards, of startup Kiwigarden, which makes healthy snacks for kids, says her children are the company's official taste testers and have been involved in everything from product development to coming up with the jokes on the backs of the packets.


Coming up in Small Business: From Facebook to Twitter, Instagram to Pinterest, everyone's trying to raise their social media profile. But is it translating to sales? If you've got a cool story about how you've used social media buzz to market your business (that's had a tangible effect on the bottom line) drop me a line.