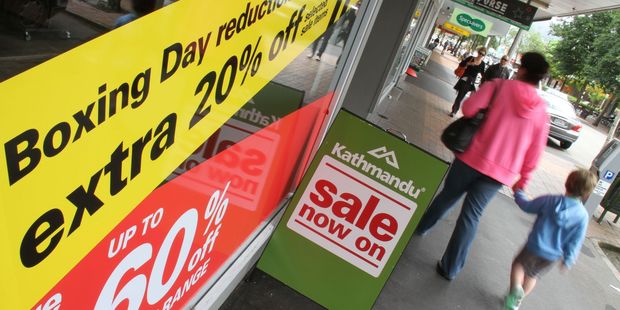 A booming Christmas shopping period and an overall annual spending jump of almost 6 per cent shows a return to pre-global financial crisis consumer confidence levels, retail experts say.
Festive season shoppers were ringing the tills in record-breaking fashion according to the latest spending figures for December.
Paymark, which processes around 75 per cent of all electronic transactions in New Zealand, said "record-smashing" spending on Christmas Eve and Boxing Day saw December spending up by 7.5 per cent on 2012.
With spending up throughout the last quarter of 2013, creating a "hockey stick effect" for the year, industry experts say the worst of the economic downturn is over.
"We haven't seen 5.9 per cent annual growth rates since 2008," said Paymark head of sales and marketing, Paul Whiston.
"The figures were positively impacted by the Christmas rush - Christmas Eve alone was up 18.5 per cent, and Boxing Day was up 12 per cent - but there has been an emerging trend through the latter part of 2013 of higher spending rates."
The New Zealand Retailers Association said business has been flat, but "slightly improving", over the last five years.
But with the strong final quarter of 2013, and the busy Christmas trade, things are looking up, association spokesman Russell Sinclair said.
"I'm certain we've turned the corner and the retailers I spoke to pre-Christmas believed that there will be further gradual improvement in business in 2014," he said.
Pet shops, sporting and camping gear stores, footwear retailers, and jewellery stores all recorded 8-9 per cent increases on the previous December figures.
Double-digit year-on-year growth was seen in furniture stores and duty free shops.
New Zealanders and tourists were out and about catching up with friends and family around the country with the hospitality and accommodation sectors both enjoying spikes.
During 2013, Paymark processed 986 million transactions, totalling $49.3 billion.
The average transaction value of $49.99 was 0.2 per cent above the 2012 average.
"For the first time since the 2008 global financial crisis we're seeing a significant increase in spending which should bring optimism for most Kiwi retailers, and hopefully we see this momentum continue into 2014," said Mr Whiston.
BOOMING SECTORS FOR DECEMBER 2013, COMPARED TO 2012
* Duty free shops - up 17.3 per cent
* Furniture stores - up 11.5 per cent
* Accommodation - up 11.1 per cent
* Hospitality sector - up 9.5 per cent
* Sporting/camping equipment stores - up 9.3 per cent
* Pet stores - up 9.2 per cent
* Footwear retailers - up 9.2 per cent
* Watch/jewellery shops - 8.7 per cent
- APNZ