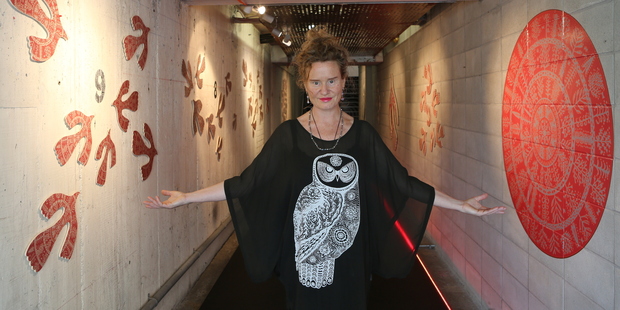 Miranda Brown, artist and designer on taking a new direction from her unrelenting work schedule.
Tell me about your business
I am an environmental artist and designer so my business is the commercialisation of my art while the philosophy of my business is what guides me.
Essentially my role is to connect people to nature - to create awareness through beauty and engagement.
I create beauty in the form of sustainable fashion, artworks, installations, interiors and public art. In the materials I use, the processes and the patterns and colours are informed by nature, reflecting nature's brilliance.
How hard have you worked on your solo projects?
I have worked incredibly hard on my own for many years. My endeavour is to create an international sustainable design brand.
At the end of last year I had to stop. After 10 years, my sustainable fashion brand was simply not sustainable for me.
Miranda Brown Conscious Cloth's focus has been based on cradle to cradle thinking using natural fibre and merino wool - New Zealand-made. This is a great ideology and ingredient list and I have had a great audience for this concept, however the Chinese import is too powerful and NZ is too small. You need scale if you are going to manufacture apparel, you need business partners and serious infrastructure.
So what I'm tending to now, is creating a sustainable business for me. I'm carving up new projects in the built environment with my artwork and design. I'm available for commissions and my art is for sale. Prints that once adorned apparel now cloak the canvas. My mission is to deliver a quadruple bottom line business: economic, social, environmental and spiritual with my global vision intact.
Do you like working solo?
I love to collaborate and work with people. I'm social and it is healthy to co-create with other people and teams.
But the creative aspect of conceiving the artwork and the inquiry process is delicious and I love doing this on my own - walking in nature, working with the elements, plants and animals so one is never really solo. Part of being an artist is aloneness, sitting in the silence, exploring the depths on the edge expanding, listening and allowing the stream to flow.
Why did you decide to give yourself more breaks in your working year?
This year has been my gap year to reflect, recoup and restructure myself and my business practice - essentially to live my philosophy: "we are nature". When I look to nature for guidance I see that nature is balanced.
So I take time each day, each week and each month to connect, play and learn new things. I'm still ambitious and I have a global vision so I concentrate really hard on my work while I'm working and I love it. It's amazing what can happen when you don't fill in all the space with busyness. Why are we so busy? Where are we going?
What effect has easing back had on your productivity?
I've just delivered on a beautiful in-situ exhibition at Jasmax, the well-known architecture firm. Working with Omnigraphics, I have developed a new range of products for interiors, commercial buildings and residential property: lighting, wallpaper, soft furnishings, decals and sculptural objects. I am also in discussions with several clients nationally and internationally to create site specific environments, art and installations for buildings. In addition to this, my art prints will be distributed nationally through design stores and gift stores in 2014.
Are you still doing okay financially?
I have had a very lean year with minimal disposable income in order to recoup, reflect and restructure. For me, I value life on many levels and finance is only part of the picture, so yes I feel successful largely because I'm living my dream, I have an amazing community of supportive friends and family, I eat healthy food and breathe clean air and I'm deeply grateful.
The money will roll in because people want connection now and they want to be touched by beauty. Why buy rubbish when you can buy quality?
The arts have always been here, it is our gift to create, to express of our intimacy, our wildness, our emotions, our intellect and our courage, so what are we creating today with our thoughts and words and actions. What do we value?
Any tips to others on how to make the transaction from working flat out
to giving yourself a few breaks?
Value your life and take time to enjoy all aspects of being here in Aotearoa - this is a very special place. We are blessed.