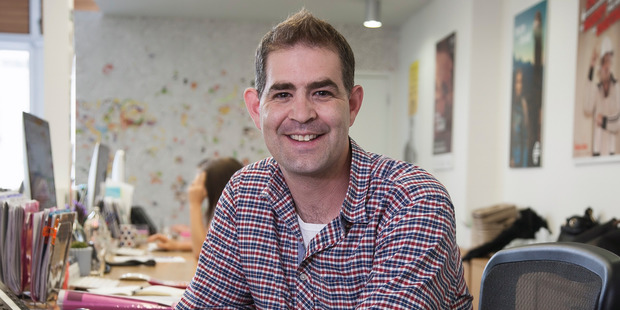 Michael Goldthorpe, owner of advertising agency Hunch.
Please describe your business and how long you have been running it by yourself.
Hunch is a micro-advertising agency. It's been around for just over two years and specialises in direct marketing, content and tone of voice. I work to make life easy for busy marketing people in larger corporates. And because I'm small I can usually be more reactive and cost-effective than larger agencies. I try and spin that so it doesn't sound like "fast and cheap".
What did you do before this?
I had worked in advertising for over a decade. I always loved the buzz of big agencies and the teamwork involved in delivering great work but my wife, Angela and I both wanted more flexibility to fit work around the family.
And we wanted to build something of our own. Angela does the book keeping part time.
What does your working week look like in terms of hours?
I work hard but it is more flexible. Since we have a two-year-old, the day usually begins at around 6am. Sometimes that means we can ease back on the gas in the afternoons - and by Friday afternoon there's not much left in the tank. All up, I probably work around 50 to 60 hours a week.
What is December like for you?
It's insane. Every year it's like Christmas is a big surprise. This year I'm getting much better at asking: "Do you really need it for Christmas?" Sadly, the answer is usually "yes."
How do you manage your annual holiday?
We try and take a week or so in the middle of the year. October is also a good time to re-charge ready for the final sprint. But this year we only managed a long-weekend in Rotorua. Promises have been made to take the kids back to the Gold Coast for a week or so in 2014.
What happens to the business in your absence when you go on holiday?
Generally, business stops. One ambition for next year is to go to lunch and still get paid. Assuming we nail that, 2015 will be all about going on holiday and still getting paid. This is one of the reasons to grow the business, having been a one-man band' in 2013. Next year is about putting together a musical ensemble. From there, maybe we can build an orchestra.
How do you cope with not having money coming in for a few weeks during the holiday break?
A bit of planning and a lot of luck. Since most of our clients pay on the 20th of the following month, it's not December or January that hurt, it's February. But if everything goes to plan, it's okay. We just eat a little less at that time of year.
Do you have an accountant who helps you with cashflow?
Angela looks after the books with occasional support from our accountant. She makes sure we bank tax money throughout the year and occasionally we dip into that for cashflow. We always make sure we pay everyone else first. And if all else fails, there's always the overdraft.
Why does working on your own suit you? What do you like about it?
Being the boss means I'm able to choose who I want to work with. I'm lucky enough to work with some of the best clients in town - and only very occasionally do I need to walk way. But being able to make that call takes a lot of stress out of what I do.
What don't you like about it?
It can be lonely. But I rent an office alongside a bigger agency. That gives me all the cultural interaction and fun I need. It also makes it easy to scale up and deliver more complex work when clients need it.
Any tips to others starting out about how to stay sane working as a one man/woman band?
Know what you want to get out of it. My biggest inspiration for going it alone was when I got home early one day and our three-year old said: "What are you doing home? You don't live here, you live at work." It was time for a change. Even now, work is still busy. but the difference is I have more control over how, when and where that work gets done. It gives us more flexibility around family. And I've working for me and my family - every hour worked, is time invested in growing a future.
If you're thinking of jumping out there, don't kid yourself that it will be easy. Get a good accountant and be prepared to make some relatively expensive mistakes. But most importantly, set priorities and keep them simple. For me, it's family comes first. After that it's: "Make money, have fun and do the right thing." That's the benchmark we refer to before starting any new job.
Bottom line, setting up my own business was the best thing I've done. I love it.