Bill Wallace, co-owner of Wallace Cotton, a homewares brand which includes bed, bath and kitchen linen, homewares, furniture, clothing and sleepwear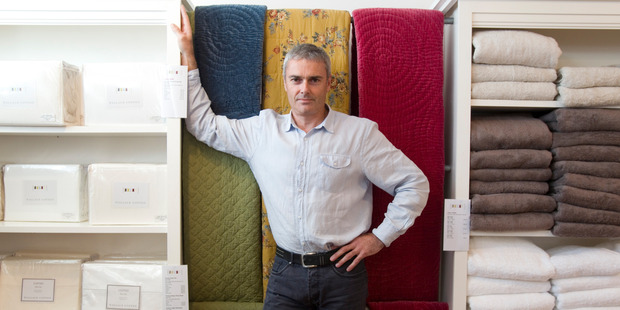 There are five Wallace Cotton stores throughout New Zealand and an internet business across New Zealand and Australia.
What does your app do?
The initial objective of our app was to bring to life our printed catalogue and allow customers to purchase directly. We targeted existing customers on our database.
We now see the app as more than just a catalogue; it provides rich editorial content in a magazine-style format, allowing customers to engage with the brand in greater depth.
We see the app as an important tool to attract new consumers to the brand both in NZ and internationally.
Who helped you create one?
We are one of the first NZ retail companies to feature in-app TCommerce (tablet commerce) allowing people to purchase product from inside our app.
Digital Arena, an Auckland-based IT company provided support and guidance in this area.
What has it done for your business?
Our app allows us to feature more dynamic content on the brand such as "behind the scenes" video and interactive articles which enhance the brand personality. Importantly it has allowed us to future-proof the business in two ways:
Our printed catalogues are an iconic feature of the brand but obviously there is a significant cost to the business in printing and distributing these. We are also seeing an increasing number of customers wanting to view a digital version of our catalogues as they prefer the more 'sustainable' option. There may come a point in time where the app becomes our catalogue.
Increasingly customers are wanting to connect with us where and when it suits them.
With the massive increase in tablet usage and "couch commerce", we believe our app will continue to see strong growth.
Having the app simplifies the shopping process for customers and allows them to engage with the brand on a more personal level. It also allows us the opportunity to speak to a far greater audience beyond our existing database.
What has the feedback been?
It's early days but our downloads are growing consistently with every issue and customers seem to love the magazine style format. Our next strategy is to market the app to other iPad users outside of our existing customer database. We are currently looking at ways to attract new users to the brand and are investigating digital advertising opportunities across other well-known apps and websites.
How costly is it to set up an app like this?
We are fortunate to have Anna Mantell, our in-house graphic designer, who managed the process from creation to launch. Support is provided by our website manager who creates content relevant to the brand. Our set-up costs were minimal as a result. We already have the Creative Suite software package to produce our printed catalogues and we now use this to create our app.
We use the Adobe Digital Publishing Suite Professional edition which allows us to publish the app and upload it to the app store. We purchase a yearly license for this which is approxiately $6000. License costs vary greatly depending on your needs, our license is for a single-user and within this we can produce as many new issues as we like. It also provides detailed analytics so we can track consumer behaviour.


Next week: New Zealand has a vast number of one man/woman bands - people happiest working on their own, doing what they do best - piano tuners, software developers, electricians, plumbers, artists.
They don't have staff to hand over to during the year so they tend to soldier on for the greater part of it without a break. Most of them at this time are counting down the days to the summer holiday when they get to relax for a change. Tell me your stories, how do you cope with up to a month of no invoices coming in?