Hospitality industry veteran Liz Oldfield aims for great customer service and dedicated staff at Milly's Kitchen.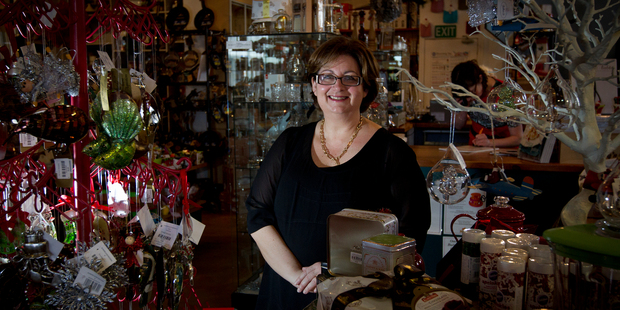 Christmas is Liz Oldfield's favourite time of year and you can tell when you walk into her Milly's Kitchen stores in Ponsonby Rd and The Strand.
The baubles adorning every surface, streamers hanging from the ceilings and croony Christmas music leave no doubt about the season.
Over the next few weeks, customers will be coming in their hordes.
Oldfield says things go "berserk" at this time of year, with sales 20 per cent up, so staff numbers jump accordingly. By the final week before Christmas, she will have doubled numbers in both Parnell and Ponsonby to a total of 15.
This is Oldfields second Milly's Christmas after she bought the retailer from founder Wendy Muir 18 months ago. She is fortunate to have former Milly's sales director, Mary-Jane Mumford, travelling up from Christchurch to lend a hand.
Oldfield knew Mumford before she bought the business, now in its 30th year. "I realised what a font of knowledge she was and we have struck up a fantastic new relationship."
The rest of the Christmas recruits are largely university students who have worked in the store during the year part-time. These include Oldfield's daughter, Victoria. Son Max, who works at student radio station bFM, does the store music.
Milly's has a rigorous training process and pays all staff to attend regular sessions.
Many permanent staff come from commercial kitchens, says Oldfield, who prides herself on low staff turnover.
Although Oldfield's first retail experience, the former owner of Dellows Kitchen in Jervois Rd is a veteran of the hospitality industry so she knows about service.
"The whole reason for Milly's is its fantastic customer service," she says.
The Herne Bay resident, who is in her shops at least six out of seven days a week, bought Milly's because "it was my favourite store".
Oldfield has put more resources into the online business, millyskitchen.co.nz, to provide an "omni-channel" offer, that also includes a mail-order catalogue, Facebook, a wedding registry and an email newsletter.
"What we are trying to do is communicate with our customers to form a community of people who love to cook," says Oldfield.
Online service has to be as good as in the store. During December, Milly's provides same-day delivery in Auckland for online shoppers.
"We also have click and collect, where you order online and go and pick it up from the Parnell store, where there is free parking."
Milly's, the Wilton Cake Decorating distributor for New Zealand, has a warehouse at the Parnell shop, from where it does dispatch, web orders and houses its cooking school.
The business is seeing double-figure growth, says Oldfield. Milly's is one of many businesses benefiting from the public's enthusiasm for cooking.
Oldfield, who has an advisory board, is thinking about other stores or concepts. A cafe would be an obvious addition at the spacious Parnell store, she says.
Meanwhile, she is not changing the traditional Milly's recipe.
"It's about having a product that does what you want it to do for a long time. You buy once and you buy well."
Top Christmas staffing tips
Our staff are going to be working long hours - I review them during the day to make sure everybody is still feeling fresh.
Best business achievement
It's the staff - they are a fantastic crew. There is not one person who does not have Milly's interests at heart.