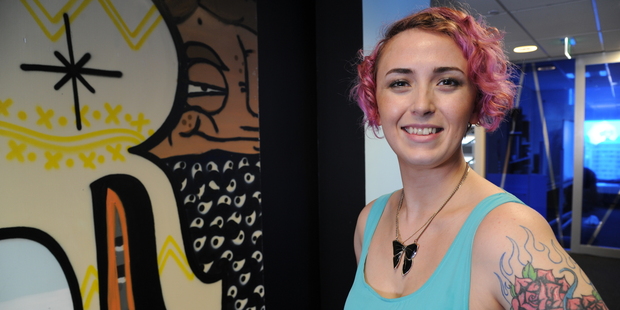 Rebeccah Cox, founder of Bexcellent Games based in Rotorua, an independent game development studio which is aiming at the casual game market on iOS with free-to-play puzzle, holiday-themed, and party games.
What is your background?
I studied game programming at Media Design School in Auckland, graduated last year, and moved back to Rotorua to launch Bexcellent Games from my home office. Before studying programming, I worked as a chef, and various other hospitality and retail jobs. I became sick of working crazy hours and the low pay, so I decided to get into a technology-related career instead. Right now I work very long hours, and I'm working almost for free, but within a year or two I should be in a much better position than I was before studying.
What success have you had so far?
The last game we released, Trick or Treat Rush, has performed pretty well. So far it's had over 800 downloads without any advertising, which surpassed my expectations by a huge amount, considering it's only the second game we have put out. Another success was being able to represent Bexcellent Games at the Armageddon Expo last month. Media Design School let us share their booth, which allowed me to make some amazing new contacts with people in related industries.
What are your plans in the next year?
The main plan is to keep working hard, and produce as many quality games as possible. The next game that is coming out is a multi-player, tabletop Christmas game, which will be another experiment into different monetisation methods. We are sticking with iOS as our main platform, but we are also looking at PC and web releases for certain games.
How do you protect the IP of your games?
You can't actually protect a game idea from being stolen, so the best thing you can do is just keep making games and not worry too much about it. The bigger enemy is not being discovered at all. There is an industry joke where you know you've hit the big time when Zynga copies your game!
Would you like any more support than you are getting from the industry or the Government?
Yes, apart from Media Design School there is zero support. There are no government grants available for small game studios, the only possible funding options are for research and development, which is not really a part of the casual mobile games we are making. I have previously contacted the New Zealand Film Commission about the fact that their Australian equivalent, Screen Australia, is funding games, and has been for a long time. New Zealand is already so far behind Australia, so why don't we catch up a bit and fund game studios before we have to move somewhere else more supportive?
Why do you enjoy developing games?
I enjoy being creative, and solving problems. It is really satisfying to create something from scratch, and then release it to the world. I see game development as a good balance between art and business, where I can be in an up-and-coming technology industry, and still flex my creative muscles. Working from home has also been a bonus, because I don't have to stick to strict schedules and can work when I am most productive.
Anything else you would like to add?
Please check out Bexcellent Games on Facebook, and our latest game Trick or Treat Rush, it's free!
I am talking to some students interested in game development at a local Rotorua school next week, so if there are any other schools that would like me to drop by, don't hesitate to contact me through the Bexcellent Games Facebook page. Anyone else interested in game development is welcome to contact me too.


Next week: Now is a key time for every retailer out there as well organised types are shopping for family overseas and at home. A recent news report said that retailers weren't going to be hiring more staff in the run up to Christmas, they would just be working harder. Is this true in your case? How do small businesses motivate and manage staff at this crucial time of year?