Kiwis' appetite for Asian flavours has boosted specialty food business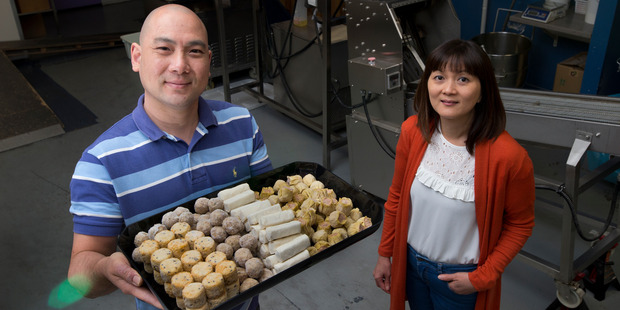 Trevor Wong began his working life as a metallurgical engineer, mixing ingredients to produce steel. Now, with wife Lynda Dang, he fuses flavours instead to create Asian-style finger foods under the Bites of Delight brand.
The 15-year-old company is riding a wave of demand for Asian foods, fuelled by immigrants bringing a taste of home with them, travellers returning with an appetite for the cuisine and the opening of a slew of high-end, Asian-inspired restaurants.
The rise of popular gourmet supermarkets such as Farro Fresh and Nosh has also created new outlets for smaller food producers.
Like many food businesses, Bites of Delight began in Dang's kitchen as she juggled cooking and caring for her new baby.
She made spring rolls for takeaways, lunch bars and bakeries, making deliveries with her baby strapped in beside her in the van.
Then the driver for a food distributor came knocking, wanting a price list to take to his boss.
From there the business outgrew several premises as Dang built up her customer base and Wong chucked his engineering job to join his wife making spring rolls.
But it hasn't always been about growth year after year.
"We've had competitors," says Wong.
The first hit came after more than five years in business when a rival spring roll producer came in and seriously undercut the Bites of Delight prices.
"Some [customers] came back to us because of the quality issues, but at the end of the day they were in a very price sensitive market," Wong says.
"We decided: a price war - we both end up losing."
Instead, they chose to diversify by making the smaller, cocktail spring rolls and offering catering chefs a higher-quality alternative to imported products.
Although parts of the production process have been semi-automated, the range - which now includes shaomai dumplings, Thai-style meatballs and coconut panko-crumbed fishcakes - is made by hand using local ingredients.
Dang says the look of the end product is important, right down to having the spring rolls wrapped a particular way, which can't be achieved using machines.
The pair employ five women on a part-time basis to create the finished product, each working around family commitments and production surges.
Wong says it is coincidence that the majority of their staff are in their 40s and 50s, but they found younger people didn't stick around.
"It's hard to keep training people. It takes a lot out of you," he says.
"It just happened that we have the older people come through and they would turn up every day, they'll do their work, they're responsible, they'll go 'oh this is not quite right shall we do something about it?"'
Even with an artisan product it is still a competitive market, and the couple realised they would need to diversify again to keep the business resilient.
Since April, Bites of Delight products have been appearing in freezers at Farro Fresh in Auckland and Moore Wilson's in Wellington.
One of the challenges of growing the business in different directions has been recognising their personal strengths and weaknesses.
While the pair are great at making the product and talking about it to potential customers, Wong says they lack the skills to create the marketing, branding and packaging materials, or manage the costs. "We've decided now we're terrible at that," he says.
"You have to give that to someone who is good at doing that because we're not good at doing that."
With the sluggish economy taking its toll, the pair considered getting out of the business about a year ago but a love of food, creating new flavours and the new retail venture have kept them inspired.
"Whenever I do new products I'm very excited," says Dang.